As I continue to explore all the traditional elements and Dance Songs for Wedding DJs, it is time for the Mother-Son Dance Songs!  I wanted to get a list out there for Brides and Grooms looking for a list of popular Mother-Son Dance Songs.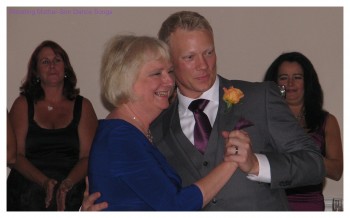 31 Popular Wedding DJ Mother-Son Dance Songs
1.  You Are The Best Thing – Ray LaMontagne
2.  How Sweet It Is – James Taylor
3.  Letter to my Mother – Edwin McCain
4.  Thank You Mom – Good Charlotte
5.  My Mom – Tony Bennett
6.  You've Got A Friend In Me – James Taylor
7.  A Song For Mama – Boyz II Men
8.  God Only Knows – Beach Boys
9.  You Raise Me Up – Josh Grobin
10.  Through The Years – Kenny Rogers
11.  Up Where We Belong – Joe Cocker
12.  Moving On – Rascal Flatts
13.  I Hope You Dance – LeAnn Womack
14.  I'll Be – Edwin McCain
15.  Have I Told You Lately – Van Morrison
16.  What A Wonderful World – Louis Armstrong
17.  Here Comes The Sun – Beatles
18.  I Wish You Love – Natalie Cole
19.  Just The Way You Are – Billy Joel
20.  Sea Of Love – Honeydrippers (Phil Phillips and Del Shannon too)
21.  Romeo and Juliet – Dire Staits
2.  I'll Have To Say I Love You With A Song – Jim Croce
23.  Sitting On The Dock Of The Bay – Otis Redding
24.  Mother – Julian & Fortune
25.  Bridge Over Troubled Waters – Simon & Garfunkel
26.  Blessed – Elton John
27.  Lovely Day – Bill Withers
28.  Go On – Jack Johnson
29.  My Wish – Rascal Flatts
30.  Mama – BJ Thomas
31.  Barbie Bandaids – Isaacs
Another list of Popular Wedding DJ Mother-Son Dance Songs (many overlap)
A Song for Mama – Boys II Men
A Whole New World – Peabo Bryson & Regina Belle
Anyway – Martina McBride
Beautiful In My Eyes – Joshua Kadison
Because You Loved Me – Celine Dion
Blessed – Elton John
Blessed – Martina McBride
Butterfly Kisses – Bob Carlisle
Can You Feel the Love Tonight – Elton John
Child of Mine – Carol King
Don't Know Much – Linda Ronstadt and Aaron Neville
Edelweiss – Sound of Music
Forever Young – Rod Stewart
God Bless the Child – Tony Bennett
Greatest Love Of All – Whitney Houston
Have I Told You Lately – Van Morrison
Hero – Mariah Carey
How Do You Fall In Love – Alabama
How Sweet it Is – James Taylor
I Hope You Dance – Leann Womack
I'll Remember – Madonna
In My Life – The Beatles
In This Life – Collin Raye
It's Your Song – Garth Brooks
Just the Way You Are – Billy Joel
Let It Be – The Beatles
Love is a Beautiful Thing – Phil Vassar
Moon River – Andy Williams
Over the Rainbow/Wonderful World – IZ
Stand By Me – Ben E. King
Sunrise, Sunset – Fiddler On The Roof
Sunshine on My Shoulders – John Denver
Teach Your Children Well – Crosby, Stills & Nash
The Gift – Collin Raye/Jim Brickman
The Rose – Bette Midler
Then They Do – Trace Adkins
There You'll Be – Faith Hill
Through The Years – Kenny Rogers
Time of Your Life – Green Day
Unforgettable – Nat King Cole / Natalie Cole
What a Wonderful World – Louis Armstrong
Wind Beneath My Wings – Bette Midler
You Are the Sunshine of My Life – Stevie Wonder
You Raise Me Up – Josh Groban
You'll Be In My Heart – Phil Collins
 Wedding DJ Unique Mother-Son Dance Songs
112 Cupid
112 Sweet Love
311 Amber
311 Love Song
12 Stones Crash
3rd Eye Blind Anything
6 a.m. Life Is Beautiful
Adele Make You Feel My Love
Aerosmith Angel
Air You Make It Easy
Al Kaline Trio Buried
Alanis Morrisette Head Over Heels
Alexi Murdoch All Of My Days
Alice Cooper You & Me
Alicia Keys If I Ain't Got You
Alicia Keys No One
Alicia Keys Butterflies
Alicia Keys Never Felt This Way Before
Alive With The Glory Of Love Say Anything
Allison Krauss Baby Now That I Found You
Alter Bridge In Loving Memory
Amel Larrieux Makes Me Whole
Amos Lee Colors
Amos Lee Arms Of A Woman
Amy Winehouse Cupid (Sam Cooke Cover)
Anberlin Cadence
Anita Baker Body & Soul
Anna Nalick Forever Love
Annie Lennox Stay By Me
Antony & the Johnsons Fists Of Love
Aqualung Brighter Than Sunshine
Aqualung I'll Put A Spell On You
Aretha Franklin United Together
Ashanti Baby
Ashley McEwen Soul to Soul
Athlete Half Light
Avenged Sevenfold Warmness On The Soul
Babyface For The Cool In You
Barry White Between Now & Forever
Belle & Sebastian Piazza New York Catcher
Ben Folds Five The Luckiest
Ben Harper Forever
Ben Harper Will To Love
Ben Harper Beloved One
Ben Harper Sexual Healing
Ben Harper Not Fire Not Ice
Ben Taylor (1st dance @Dave Grohls wedding) I Will (Beatles Cover)
Beverly Knight Angels
Beyonce Halo
Beyonce Dangerously In Love
Beyonce Speechless
Beyonce/Luther Vandross Closer I Get To You
Big Mountain Baby I Love Your Way
Big Star/Garbage Thirteen
Billy Bragg The Fourteenth Of February
Bjork Like Someone In Love
Blackstreet Joy
Blake Morgan Maybe I'm Amazed (a little rockier version)
Blind Melon Soul One
Blue You Make Me Wanna
Blue October Calling You
Blue October Everlasting Friend
Blue Rodeo Lost Together
Bob Dylan Lay Lady Lay
Bob Dylan/Guns n Roses Knockin' On Heaven's Door
Bob Marley One Love
Bon Jovi Thank You For Loving Me
Bon Jovi Always
Brandy Everything I Do
Bret Michaels All I Ever Need
Brian McKnight Back At One
Brian McKnight Crazy Love
Bright Eyes First Day Of My life
Bruce Springsteen Secret Garden
Bruce Springsteen I'm On Fire
Bush Inflatable
Cake Love You Madly
Cary Brothers Blue Eyes
Cascada Everytime We Touch
Case Happily Ever After
Cat Power I Found A Reason
Cat Power Sea Of Love
Catherine Wheel Black Metallic
Catman Cohen My Key To The Stars
Chantal Kraviasuk It Feels Like Home To Me
Cheap Trick The Flame
Chris Brown With You
Chris Cornell Thank You (Zeppelin Cover)
Chris Isaak Wicked Game
Chris Rice When Did You Fall
Christina Aguilera I Turn To You
Citizen Cope Every Waking Moment
City & Colour The Girl
Climax Blues Band I Love You
Coheed & Cambria Wake Up
Cold When Heaven's Not Far Away
Coldplay Green Eyes
Coldplay Sparks
Coldplay The Scientist
Coldplay Yellow
Coldplay Till Kingdom Come
Colin Hay Waiting For My Life To Begin
Collective Soul The World I Know
Cure Love Cats
Cure Love Song
Cure Plainsong
Damien Leith Nite Of My Life
Damien Rice Cannonball
Damien Rice The Blower's Daughter
Daniel Bedingfield If You're Not In It For Love
Darren Hayes So Beautiful
Dave Barnes More Than A Man
Dave Barnes On A Night Like This
Dave Mathews Steady As We Go
Dave Mathews Crash Into You
Dave Mathews Band Crush
Dave Mathews Band So Right
David Bowie Heroes
David Bowie Wild Is The Wind
David Cook The Time Of My Life
David Grey Be Mine
David Grey Grey Blue Eyes
David Grey Sail Away
David Grey This Years Love
Default The Memory Will Never Die
Depeche Mode Somebody
Depeche Mode To Have & To Hold
Devine Brown Old School Love
DHT Listen To Your Heart
Dido Thank You
Dinosaur Jr. Show Me The Way
Dire Straits Romeo & Juliet
Divine Comedy Commuter Love
Divine Comedy Songs Of Love
DJ Sammy Heaven (Candlelight Remix)
Don Henley For My Wedding
Don Henley Taking You Home
Donnel Jones Where I Wanna Be
Doolittle Monkey Gone To Heaven
Dramarama Haven't Got A Clue
Dramarama Give Anything Anything
Drop Kick Murphys Forever
Dru Hill Come Share My World
Eagle Eye Cherry Save Tonight
Early November Power Of Love (Huey Lewis Cover)
East Mountain South So You Are To Me
Edwin McCain I Could Not Ask For More
Elliot Smith Angel In The Snow
Elliot Yamin You Are The One (acoustic)
Elvis Costello She
En Vogue Don't Let Go
Enrique Iglesias Hero
Enya Only Time
Enya Orinoco Flow
Evanescence My Immortal
Evanescence Solitude
Evanescence Anywhere
Ewan McGregor/Nicole Kidman Come What May
Explosions In The Sky Your Hand In Mine
Faber Drive When I'm With You
Faith Evans I Love You
Faithless We Come One
Feelers Nothing's More Real
Feist Mushaboom
Firehouse Love Of A Life-time
Five For Fighting 100 Years
Flaming Lips Do You Realize
Fleetwood Mac The Chain
Floetry Say Yes
Foo Fighters Best Of You
Foo Fighters Miracle
From Romeo & Juliet Kissing You
Fugees Killing Me Softly
Gavin Degraw We Belong Together
God Speed You Black Emperor Storm
Goo Goo Dolls Iris
Goo Goo Dolls Slide
Great Big Sea Charming & Graceful
Green Day Time Of Your Life
Guns N Roses November Rain
Guns N Roses Patience
Gwen Stefani Real Thing
Hello Goodbye Oh, It's Love
Hellogoodbye Baby, It's Fact
Hellogoodbye Oh It's Love
Hellogoodbye Here In Your Arms
HIM Bury Me Deep Inside Your Heart
HIM Heaven Tonight
HIM You Are The One
HIM Gone With The Sin
Hinder Lips Of An Angel
Hoobastank The Reason
Incubus I Miss You
Incubus (Acoustic) Stellar
Ingrid Michaelson Good Old War
Ingrid Michaelson The Way I Am
Ingrid Michaelson We've Come A Long Way
INXS Never Tear Us Apart
Iron & Wine Lion's Mane
Iron & Wine Love & Some Verses
Iron & Wine Such Great Heights
Jack Johnson Better Together
Jack Johnson Flake
Jack Johnson Angel
Jacqui Naylor Celebrate Early & Often
Jagged Edge I Wanna Be
Jagged Edge Promises
Jagged Edge/Donnel Jones Knocks Me Off My Feet
Jaheim Never
Jamelia Superstar
James Just Like Fred Astaire
James Blunt You're Beautiful
James Morrison Better Man
James Morrison You Give Me Something
Jamie Cullum What a Difference a Day Makes
Jamiroquai You Give Me Something
Jann Arden Make You Feel My Love
Jason Mraz I'm Yours
Jason Mraz Lucky
Jason Wade You Belong To Me
Jayhawks All The Right Reasons
Jayhawks Two Hearts
Jeff Buckley Hallelujah
Jem Maybe I'm Amazed (McCartney Cover)
Jessica Simpson Take My Breath Away (Berlin Cover)
Jessica Simpson I Wanna Love You Forever
Jets To Brazil Sweet Avenue
Jewel You Were Meant For Me
Jim's Big Ego Music Of You
Jodeci You & I
Joe I Wanna Know
Joe No One Else Comes Close
John Legend Stay With You
John Lennon Love
John Mayer Your Body Is A Wonderland
Johnny Gill You For Me
Josh Radin Only You
Josh Turner In My Dreams
Joshua Raden Someone Elses Life
Joy Division Love Will Tear Us Apart
Joy Division/New Order Ceremony
Joy Wants Eternity From Embrace To Embrace
Jump Little Children The Way They Dance
Katherine Mcphee Each Other
Katie Melua Ten Million Bicycles
Keith Sweat Make It Last Forever
Keith Sweat I'll Give All My love To You
Keith Sweat Nobody
Kelly Clarkson A Moment Like This
Kelly Clarkson Because Of You
Kelly Clarkson Anytime
Kelly Rowland United
KT Tunstall Universe & You
Lauryn Hill Can't Take My Eyes Off Of You
Leona Lewis A Moment Like This
Levert I've Been Waiting
Liberator Tell Me Tell Me
Lifehouse You & Me
Lifehouse Hanging By A Moment
Lil' Maw First Day Of My life
Live Lightning Crashes
Live I Alone
Live Dance With You
Lorena McKennit The Mummer's Dance
Lou Reed Perfect Day
Macy Gray I Try
Madness It Must Be Love
Magnetic Field Book Of Love
Magnetic Fields It's Only Time
Mariah Carey Forever
Mariah Carey Vision Of Love
Mariah Carey Always Be My Baby
Mariah Carey/Boys 2 Men One Sweet Day
Mario Let Me Love You
Mark Anthony My Baby You
Mark Anthony When I Dream At Night
Mark Cohn True Companion
Marques Houston Beautiful Day
Marshall Crenshaw Whenever You're On My Mind
Massari Real Love
Massive Attack Live In Me
Matchbox 20 Push
Matchbox 20 (Cyndi Lauper Cover) Time After Time
Mathew Sweet I've Been Waiting
Maximo Park Postcard Of A Painting
Maxwell – Marvin Gaye Sexual Healing
McFly About You
Metallica Nothing Else Matters
Metallica Nothing Else Matters
Micheal Buble Everything
Mint Royale Don't Falter
Mirah Words Cannot Describe
Modest Mouse Little Motel
Modest Mouse Sleepwalkin'
Modest Mouse Float On
Monica For You I Will
Morrissey You're The One For Me Fatty
Motley Crue Without You
Motley Crue If I Die Tomorrow
Mouldy Peaches Anyone Else But You
Muse Unintended
Muse Uno
Muse Endlessly
Muse Can't Take My Eyes Off Of You
Muse You Get Me Lost
My Chemical Romance Famous Last Words
Nada Surf Always Love
Natalie Merchant One Fine Day (Chiffon' Cover)
Natasha Bedingfield Love Like This
Natasha Bedingfield These Words
New Pornographers Go Places
Nick Cave Straight To You
Nick Cave Into My Arms
Nick Drake Time Has Told Me
Nick Lachey This I Swear
Nickelback Far Away
Nickelback Never Gonna Be Alone
Nina Gordon Tonight
Nina Simone I Put A Spell On You
Nine Inch Nails Something I Can Never Have
Nirvana Heart Shaped Box
Nora Jones Those sweet Words
Nora Jones Love Me Tender
Oasis Let There Be Love
Oasis Wonderwall
Old 97's Question
One Republic Won't Stop
Otis Redding I Love You More Than Words Can Say
Panic At The Disco I Write Sins Not Tragedies
Paul Weller You Do Something To Me
Paulo Nutini Loving You
Peabo Bryson I'm So into You
Pete Doherty/Wolfman Song For Lovers
Peter Gabriel Blood Of Eden
Peter Gabriel In Your Eyes
Peter Gabriel Book Of Love
Phish Waste
Pink Floyd Shine On You Crazy Diamond
Placebo/David Bowie Without You I'm Nothing
Plain White T's Hey There Delilah
Porcupine Tree Trains
Postal Service Brand New Colony
Postal Service Such Great Heights
Pretenders I'll Stand By You
Prince If I Was Your Girlfriend
Prince Forever In My Life
Pulp Something Changed
Pure Soul We Must Be In Love
Pussy Cat Dolls Stickwitchu'
Queen You're My Best Friend
Queens Of The Stone Age I Wanna Make It Witchu'
Quiet Drive Time After Time
R Kelly Happy People
R Kelly Forever
R Kelly/Celine Dion I Am Your Angel
R.E.M. At My Most Beautiful
Raconteurs Together
Ramones Baby I Love You (Ronettes cover)
Ray Lamontagne Let It Be Me
Red Hot Chili Peppers Hard To Concentrate
Reindeer Section If Everything Fell Quiet
REM You Are My Everything
Renee Olmstead A Love That Will Last
Replacements Within Your Reach
Rise Against Swing Life Away
Robbie Williams She's The One
Robbie Williams Angels
Robin Thicke I Need Love
Ryan Adams Crazy Love
Ryan Adams Wonderwall
Ryan Adams When The Stars Go Blue
Sade Kiss Of Life
Sara McLachlan Elsewhere
Sara McLachlan Ice Cream
Sara McLachlan I Love You
Sara McLachlan Possession
Sara McLachlan Fumbling Toward Ecstacy
Savage Garden I Want You
Savage Garden Truly Madly Deeply
Scandal w. Patty Smyth Love's Got A Line On You
Screaming Headless Torsos Something (Beatles cover … Rock)
Second Hand Serenade Stranger
Second Hand Serenade Awake
Seether Broken
Shaun Barrowes When I Take Your Hand
Shaun Barrowes You're All Of My Reasons
She & HIM Sweet Darlin
Silverchair Miss You Love
Simply Red You Make Me Feel Brand New
Sinai 48 Life Will Be
Sinead O'Connor Nothing Compares To You
Six Pence None The Richer/New Found Glory Kiss Me
Skid Row I Remember You
Skillet Better Than Drugs
Skillet Yours To Hold
Slipknot Vermilion Pt. 2
Smashing Pumpkins Luna
Smashing Pumpkins Tonite Tonite
Snow Patrol Chasing Cars
Snow Patrol You Could Be Happy
Soltero Communist Love Song
Something Corporate Konstantine
Spiritualized (Pachabel's tune rocked out) Ladies & Gentleman We Floating In Space
Spoon Something To Look Forward To
Squirrel Nut Zippers Meant To Be
St Augustine Band Of Horses
Stabbing Westward Sometimes It Hurts
Staind Fill Me Up
Staind Far Away
Stars Heart
Stars Elevator Love Letter
Stars My Favourite Book
Stephanie Mills So Good So Right
Stereophonics First Time
Sting/Sheryl Crowe Always On Your Side
Stone Roses 10 Storey Love Storey
Style Council You're The Best Thing
Styx Babe
Sufjan Stevens To Be Alone With You
Sugababes Too Lost In You (Love Actually Strk)
Sum 41 With Me
Suzanne Vega Rosemary
SWV Anything
SWV Use Your Heart
Talking Heads This Must BeThe Place
Tara Mclean You
Taylor Hicks Hold On To Your Love
Taylor Swift Love Song
Tears For Fears Head Over Heels
Teddy Geiger For You I Will (Confidence)
Teddy Pendergrass You're My Latest My Greatest Inspiration
Tegan & Sara I Know I Know I Know
Tegan & Sara Take Me Anywhere
Teiter You're The Ocean
Teiter One & Only
Tesla Words Can't Explain
Texas I'll See It Through
The Calling Wherever You Will Go
The Cure Just Like Heaven
The Damnwells I Will Keep The Bad Things From You
The Darkness (Rock) I Believe In A Thing Called Love
The Decemberists Red Right Ankle
The Decemberists Here I Dreamt I Was An Architect
The Decemberists The Engine Driver
The Decemberists 15 Military Wives
The Eels Fresh Feeling
The Features The Idea Of Growing Old With You
The Feeling Rose
The Flaming Lips With You
The Fray Look After You
The Get Up Kids Don't Worry I'll Catch You
The Get Up Kids Crazy Love
The Killers When You Were Young
The Plain White Tees Hey There Delilah
The Red Jumpsuit Apparatus Your Guardian Angel
The Shins We Will Become Silhouettes
The Smiths There Is A Light That Never Goes Out
The Steinways Don't Leave Me Hanging On
The Sundays Wild Horses
The The This Is The Day
The Used Smother Me
The Used I Caught Fire
The Wannadies You and Me Song
The Wrens She Sends Kisses
The Zombies This Will Be Our Year
Theory Of A Deadman Since You've Been Gone
Three Days Grace Never Too Late
Three Doors Down Here By Me
Three Doors Down Landing In London
Three Doors Down Kryptonite
Tilly & the Walk Pictures Of Horses
Tina Turner Simply The Best
Tom Waits Little Trip To Heaven
Tom Waits Picture In A Frame
Tomi Swick A Night Like This
Toni Braxton How Many Ways
Tonic Count On Me
Trail Of Dead It Was There That I Saw You
Travis Flowers In The Window
Trivium This World Can't Tear Us Apart
Turin Brakes Fishing For A Dream
U2 Night & Day
U2 All I Want Is You
U2 With Or Without You
U2 Beautiful Day
U2 One
Uncle Kracker Drift Away
Van Morrison Sweet Thing
Velvet Revolver Fall To Pieces
Velvet Underground I'm Sticking With You
Wallflowers – Colin James Into The Mystic
Ween Stay Forever
Weezer Island In The Sun
Westlife More Than Words
Will Young Evergreen
Wolf Parade This Hearts On Fire
XTC Wonderland
yeah yeah yeahs Maps
Yellowcard Oh My Love (John Lennon cover)
Yellowcard How I Go
Yo La Tengo You Can Have It All
Zero 7 Destiny
As always, I invite you to contact me for suggestions for your Wedding DJ Mother-Son Dance Songs. Here are other blog posts that may be helpful to you Top 50 DJ Wedding Last Dance Songs, Popular Garter Toss Songs, Wedding DJ Father-Daughter Dance Songs, Top 50 Wedding Cake Cutting Songs, Popular Bridal Party Introduction Songs for Wedding DJs and Popular Bouquet Toss Songs.
Which was your Mother-Son Dance Song? Of the lists above, what are your favorite Mother-Son Dance Songs or do you have one that I need to add to the list of Mother-Son Dance Songs?
DJ Mystical Michael Rhode Island DJ & NY DJ
Ask about my Rhode Island Wedding DJ & Rhode Island Party DJ Guarantee!