Here are some Great Rock and Pop Songs followed by a list of the most popular bouquet toss songs nationally.
Uptown Girl        Billy Joel
Foxy Lady          Jimi Hendrix
American Woman The Guess Who or Lenny Kravitz
Just A Girl          No Doubt
Pour Some Sugar On Me Def Leopard
She's A Beauty The Tubes
Stray Cat Strut The Stray Cats
All I want To Do Sheryl Crow
Maneater          Hall & Oates
Oh Yeah           Yello
Walk This Way Aerosmith or Aerosmith & Run-DMC
Another one bites the dust
Bad boys
Da Ya think I'm sexy
Do you wanna touch me
Fever
Girls just want to have fun
Girls girls girls
Guys do it all the time
I'm too sexy
It's raining men
James Bond theme
Jeopardy clock
Kiss
Ladies night
Legs
Let's get it on
Macho man
Mission impossible theme
Oh! pretty woman
Peter gunn theme
Shameless
Sharp dressed man
She's a bad mama jama
Single Ladies (Put a Ring on it)
The distance
The stripper
Theme from star trek
U can't touch this
Whip it
Wild thing
Wild thing
Why don't we do it in the road
You can leave your hat on
You sexy thing
Queen
Inner Circle
Rod Stewart
Joan Jett
Peggy Lee
Cyndi Lauper
Motley Crue
Mindy McCready
Right Said Fred
Weather Girls
TV Theme
TV Theme
Prince
Kool & The Gang
ZZ Top
Marvin Gaye
Village People
Larry Mullen
Roy Orbison
Emerson, Lake & Palmer
Garth Brooks
ZZ Top
Carl Carlton
Beyonce
Cake
David Rose
TV Theme
M. C. Hammer
Devo
The Troggs
Tone Loc
The Beatles
Tom Jones
Hot Chocolate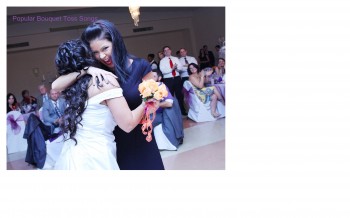 Here are other posts that may be helpful to you Top 50 DJ Wedding Last Dance Songs, How To Hire The Best Wedding DJ,  Popular Garter Toss Songs, Wedding DJ Father-Daughter Dance Songs, Wedding DJ Mother Son Dance Songs, Top 50 Wedding Cake Cutting Songs, Popular Bridal Party Introduction Songs for Wedding DJs and Popular Bouquet Toss Songs.
What are your favorite Bouquet Toss Songs?
DJ Mystical Michael Rhode Island DJ & Boston DJ
Ask about my Rhode Island Wedding DJ & Rhode Island Party DJ Guarantee!