"When we found Michael and talked to him we were instantly reassured. He was very organized with a calm demeanor. At the wedding he played all the music we wanted to hear and all the music the guests requested. He was great!" Caitlyn & Ryan (Wedding)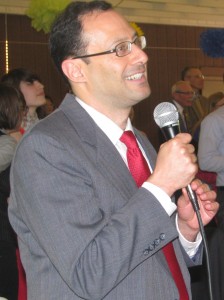 DJ Mystical Michael has over 30 years of experience as a DJ. He started out in the 1980's with two Technics turntables and a crate of Classic Rock LPs, and has never looked back. Today, he has a state of the art Bose sound system and a digital music collection of 350GB and over 49,000 songs. That's 150 days of music! His repertoire covers music from the 1940's to the most current hits, with an emphasis on Pop, Dance, Rock, Reggae, Oldies, World, Disco, Reggaeton, Hip Hop, Rap, Latin, The Classics, Classical, Lounge, Buddha Bar, Café and Popular Country. He's performed on the radio, in clubs, in small taverns, and at every kind of event imaginable – from Weddings, Sweet Sixteens, Graduations, Family Gatherings, Class Reunions, Corporate Events, Film Festivals, and Fashion Shows to good old-fashioned neighborhood pig roasts.
In case its not already obvious, he loves music! Some of his favorites are The Beatles, George Winston, RUN-DMC, Flamenco, Fun-Da-Mental, Vitamin String Quartet, David Guetta, World Music, Lauryn Hill, B-52′s, Marvin Gaye, Vas, Vida, Johnny Cash, Elton John, Talking Heads, Jimi Hendrix, Willie Nelson, Bob Marley, Gipsy Kings,  Stevie Wonder, Adele, Alicia Keys, Samite, African Rhythms, Queen and Prince, whom he once saw third row at Radio City Music Hall on the 1999 (album, not year) Tour. As with many of us, his list of favorites goes on and on, as a listener, dancer and DJ!
In his unstructured time he can be found dancing, writing, singing, loving food (growing, cooking & eating), playing volleyball, meditating, painting/drawing, and enjoying beaches, mountains and forests. He recently returned to the States after a year and a half in Asia including South Korea, Japan, Taiwan, Hong Kong, Malaysia, Mongolia, Kazakhstan, Kyrgyzstan and Uzbekistan. "I like learning about and experiencing other cultures and ways of living." He is a three-time winner of NaNoWriMo; South Korea (2008) and USA (2010 & 2011).
Why do you offer a Guarantee?
I know I excel as a DJ and MC. I want you to have that same assurance so you can focus your attention and energy on other areas of your Wedding or Event. You worry about getting your guests there and feeding them. I'll make sure they have a great time and remember your Wedding or Party long afterwards. They will have fun and I am certain of that, so I can offer a guarantee since I am confident you will want to pay me. You are investing in me by hiring me and sending me a deposit. I am investing in your Wedding or Event by offering the following guarantee: if you are not happy with my performance, you do not have to pay the remainder of the balance. Period.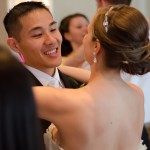 How did you start as a DJ?
I started at a college radio station. I ran into a friend from childhood in the halls and he invited me into the station. I saw the mixing boards, turntables, and microphones and was hooked on the spot. By the end of the semester, I was Music Director and then soon after Program Director.
The college was doing a fundraiser and we used a portable PA system performing in the student center. I got so fired up from having the real audience in front of me, I went out and bought my equipment. I put up flyers all around the area and started getting gigs regularly and paid for college through my DJ business. This continued after college, and I became one of the three 'original' mobile DJs in New Jersey back then. We competed with each other because it was a new thing to hire a party or wedding DJ. We were a novelty back then. Hard to imagine that, today, not having a DJ would be a novelty.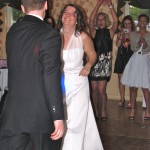 Can you share one of your favorite experiences as a  professional DJ?
It was May of 2010. I was hired as Wedding DJ and MC for a local New Jersey couple. He was from Georgia and she from France.  A week before the wedding, all the airports in France closed due to bomb threats and the bride's family was not going to be able to come to the wedding. She was freaked-out and called me crying at 6:00a.m. to tell me. I tried to support her but knew there was little that I could do. Then, the day before the wedding, she called me again early in the morning to tell me the ban was lifted and they were coming after all! Her family landed in Newark and came directly to the wedding, changing in the bathroom of the reception hall where the couple was married outside on a gorgeous Spring evening.  She was radiant with joy about her wedding, and about her family magically being present. The wedding was so full of love and warmth that everybody was dancing, smiling, and singing with celebration the whole night.
What are your greatest strengths as professional DJ and MC?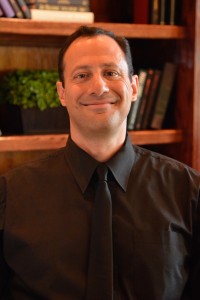 Most of my professional training is actually in counseling, so understanding people, discerning what they need most, reading a crowd, and sensing exactly what is needed to make an event successful all come naturally to me. Whether it's a matter of body language, smiles, dancing, age, cultural diversity, or anything else, I understand people. Participating in our essential need for fun and celebration is such a Blessing for me. I am glad I get to share these gifts with others. Also, I have been a music fanatic since my Dad brought home '45s' of The Beatles when I was a child; music has always been a significant part of my life. As a teenager, I was the only person I knew who listened to rock, disco, new wave, classical, jazz, oldies, soul, R&B, Motown and Carole King. Those days it was not cool to listen to multiple genres, you had to listen to the same music as your peer group; but not me. I needed diversity and still do. The more diverse the crowd and the music, the more I am in my element. I also appreciate the opportunity to honor requests. I know it has become 'hip' for professional DJs to not take requests and to think they know better than you what you want to hear, but I like requests. It gives me the opportunity to get to know you and have conversation with you. Oh yeah, and I am lots of fun!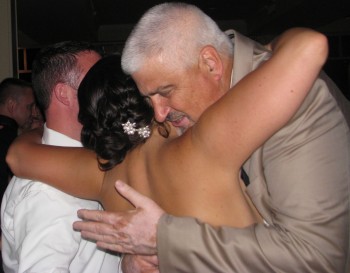 Ask about my Rhode Island Wedding DJ & Rhode Island Party DJ Guarantee!
SaveSave
SaveSave