I was updating my listing on Gigmasters tonight, and noticed this helpful piece of information on hiring your Wedding DJ:
Booking Wedding DJs
"Booking the right wedding DJ can make a huge difference in your wedding reception. The right wedding DJ service can make the difference between a boring wedding reception and one that your wedding guests talk about for years.
Not all wedding DJs are created equal. Just because a DJ has a great collection of wedding DJ music does not mean the he or she is the perfect fit for your wedding entertainment. Talk to potential wedding DJs about what you need and want for your wedding reception and make sure to find a wedding DJ with a style you enjoy.
Your wedding DJ is a big part of the mood and feel of your wedding reception. You'll want to make sure you research your options and find a wedding DJ that will work well with you and your party."Gigmasters

Your Wedding DJ is a Big part of the Mood and Feel of Your Wedding Reception
This is the essential fact I wanted to draw attention to. Your Wedding DJ is who sets the mood and 'vibe' of your Wedding. It appears from the outside that the Wedding DJ that scratched and make cool sounds is the one that will give you the best value and entertainment for your Wedding. This is not always so, in fact, I would say that a Wedding DJ that focuses on 'WOWing' you and your guests has forgotten that you are the spotlight and should be, not the Wedding DJ
What Makes An Exceptional Wedding DJ?
An exceptional Wedding DJ has mastered the art of providing the music and entertainer but still not take the shine from The Bride or Groom. It is your Wedding and you are the what and why everybody is gathered. An exceptional Wedding DJ knows how to stay out of the way while keeping the pulse on what music, genre and vibe is next for the unique and fun Wedding you are expecting. A good Wedding DJs are not cheap like we were years ago. Many top notch Rhode Island Wedding DJs, and even more so for New York Wedding DJs, cost anywhere  from $850-$2700 today. Even more if you are into all the bells and whistles that can at times take the focus off you and your Wedding.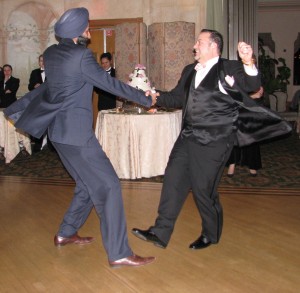 Find a Wedding DJ that is excited about working with you to co-create an exceptional Wedding together. If you are looking for a simple and elegant Wedding that expresses you and your fiancé, talk with your Wedding DJ and make sure they are right for you. I invite you to follow your gut and not let price differences one way or the other of 10-15% distort your decision. You will know when you have the right Wedding DJ for you. Trust yourself.
DJ Mystical Michael Rhode Island DJ & Boston DJ
Your Party, Your Music, Your DJ
973.908.8147
DJMysticalMichael@gmail.com