I was recently working on a project related to Live Aid, and was reminded of the powerful performance of U2 Bad at Wembley Stadium, London on July 13th, 1985. After further research, I was surprised to find out the content of U2 Bad.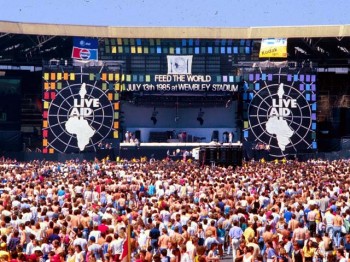 The U2 Bad Story
"Bad" began with an improvised guitar riff during a jam session at Slane Castle where U2 were recording The Unforgettable Fire.The basic track was completed in three takes. Of its immediate and live nature, U2 guitarist The Edge said "There's one moment where Larry puts down brushes and takes up the sticks and it creates this pause which has an incredibly dramatic effect." Producer Brian Eno added the sequencer arpeggios that accompany the song.

The early 1980s recession had led to high number of heroin addicts in inner city Dublin. In concert, lead vocalist Bono frequently introduced the song as a song about Dublin.[4]The Edge and the album's producers, Brian Eno and Daniel Lanois, were focused on the music and less interested in the lyrics. Bono left the song unfinished.

During a July 26, 2011 concert in Pittsburgh, Bono explained before a performance of "Bad" that the song was written for "very special man, who is here in your city, who grew up on Cedarwood Road. We wrote this song about him and we play it for him tonight."  He was referring to Andy Rowen, whom the song was originally written about in 1984 and who was present at the show. Rowen is brother of Bono's Lypton Village friend Guggi and Peter Rowen, who is featured on the sleeve artwork for the band's albums Boy and War.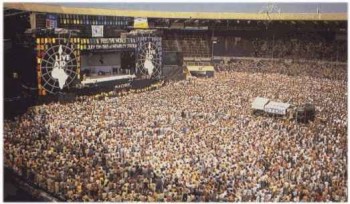 There are other versions of the story from Bono himself. His account from a 1987 concert in Chicago indicate "Bad" is about a friend of his who died of a heroin overdose and also about the conditions that make such events likely repeat themselves. Bono once commented in another concert (in the UK) about people lying in gutters with "needles hangin' outta their fuckin' arms while the rich live indifferently to the suffering of the less fortunate." At Eriksberg, Gothenburg in Sweden 1987, he said: "I wrote the words about a friend of mine, his name was Gareth Spaulding. And on his 21st birthday he and his friends decided to give themselves a present of enough heroin into his veins to kill him. This song is called 'Bad'.
U2 Bad at Live Aid
U2 participated in the Live Aid concert at Wembley Stadium for Ethiopian famine relief on 13 July 1985. They played a 12-minute version of U2 Bad, which was extended by snippets of Lou Reed's "Satellite of Love" and "Walk on the Wild Side", and The Rolling Stones' "Ruby Tuesday" and "Sympathy for the Devil". Bono leaped down off the stage to embrace and dance with a fan, which was captured on the TV broadcast sent around the world. The performance was so long that the band was only able to play two of the three songs in their set, leaving out "Pride (In the Name of Love)", which was supposed to end the band's performance. The concert turned out to be a breakthrough moment for the band, showing a television audience of millions the personal connection that Bono could make with audiences. Only a week later he realized that the dance with the fan became a key image of Live Aid. All of U2's albums re-entered the charts in the UK after their performance. In 1985, Rolling Stone called U2 the "Band of the 80's," saying that "for a growing number of rock-and-roll fans, U2 have become the band that matters most, maybe even the only band that matters."
U2 Bad Original Studio Version
It almost comical to think at that point they felt like they had to introduce themselves, based on the amount of global success U2 has enjoyed since then.
U2 have released 12 studio albums and are among the all-time best-selling music artists, having sold more than 150 million records worldwide. They have won 22 Grammy Awards, more than any other band, and in 2005, they were inducted into the Rock and Roll Hall of Fame in their first year of eligibility. Rolling Stone ranked U2 at number 22 in its list of the "100 Greatest Artists of All Time". Throughout their career, as a band and as individuals, they have campaigned for human rights and philanthropic causes, including Amnesty International, the ONE/DATA campaigns, Product Red, and The Edge's Music Rising.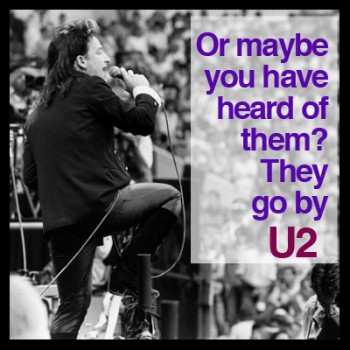 U2 Bad Lyrics
If you twist and turn away
If you tear yourself in two again
If I could, yes I would
If I could, I would
Let it go
Surrender
Dislocate
If I could throw this
Lifeless lifeline to the wind
Leave this heart of clay
See you walk, walk away
Into the night
And through the rain
Into the half-light
And through the flame
If I could through myself
Set your spirit free
I'd lead your heart away
See you break, break away
Into the light
And to the day
To let it go
And so to fade away
To let it go
And so fade away
I'm wide awake
I'm wide awake
Wide awake
I'm not sleeping
Oh, no, no, no
If you should ask then maybe they'd
Tell you what I would say
True colors fly in blue and black
Bruised silken sky and burning flag
Colors crash, collide in blood shot eyes
If I could, you know I would
If I could, I would
Let it go…
This desparation
Dislocation
Separation
Condemnation
Revelation
In temptation
Isolation
Desolation
Let it go
And so fade away
To let it go
And so fade away
To let it go
And so to fade away
I'm wide awake
I'm wide awake
Wide awake
I'm not sleeping
Oh, no, no, no
U2 Bad is a great song that is part of U2's live performances worldwide and very popular among their fans. What about U2 Bad is most intriguing and powerful for you?
DJ Mystical Michael Rhode Island DJ & Boston DJ
973.908.8147