I continue to have fun and enjoy my experience as Trivia Host and DJ at O'Reilly's Bar and Grill in Newton, NJ on Tuesday Nights.We have lots of fun and everybody learns a thing or two, even the Trivia Host and DJ! We gets tarted somewhere between 9:30-10:00 and play till we finish, about two hours later. They give out great prizes and the competition is stiff but casual and playful.
Now that I have been a Trivia Host for over a year now and feel like I am actually getting good at it, or at least decent!  For those who don't know, we play Bar Busters Pub Trivia. The game consists of seven Rounds or Categories; General Knowledge, Pictures, Sports, Music, Geography/History, Entertainment and a General Knowledge Bonus Round. The game is diverse enough that every team and player have a chance to do good, since we have questions that cover many different forms of trivia. One of the aspects of this particular trivia game I like best is the fact that you don't have to shout out answers. In fact, nobody can shout out answers, they are all written down without anybody else knowing what you guessed! Great for people who want to have fun, test their brain a little and not want to make a fool of themselves in the process.
I enjoy Being a Trivia Host because it integrates some of my favorite character traits, excellent DJ and music, entertaining and sharpening up my brain while have lots of fun in the process. Of course, I can be a bit of a 'ham' at times but not too over-the-top.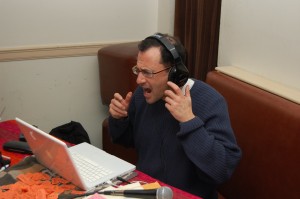 \
What is Pub Trivia and A Trivia Host?
Here is what Wikipedia defines a Pub Quiz Game with a Trivia Host:
"A pub quiz is a quiz held in a public house. These events are also called quiz nights  or trivia nights and may be held in other settings. Pub quizzes may attract customers to a pub who are not found there on other days. The pub quiz is a modern example of a pub game. Though different pub quizzes can cover a range of formats and topics, they have many features in common. A 2009 study put the number of regular weekly pub quizzes in the UK at 22,445, and one website has counted approximately 2,000 regular weekly quizzes in the United States. The largest pub quiz, according to the Guinness Book of Records, was the "Quiz for Life", held at the Flanders Expo Halls in Ghent, Belgium, on 11 December 2010 with 2,280 participants."
Come join me Trivia Host and DJ at O'Reilly's every Tuesday Night at 9:30!