The Bee Gees Stayin Alive. I was in 7th grade when John Travolta was at the peak of his teen icon status with his role as Vinnie Barbarino on the TV show Welcome Back Kotter.  My brother who was four years older than me, met and became friends with him strangely enough at a bar in Miami. They stayed in contact for a little while and  once I answered the phone and sure enough John Travolta was on the other end. My brother wasn't home and I took a message.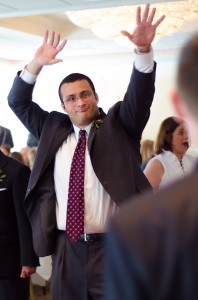 It wasn't till I was in high school that Saturday Night Fever and The Bee Gees Stayin Alive came out. My brother liked Disco, at the time I was not as much a fan. I have grown to appreciate how it is so well-made for dancing. As a professional DJ, The Bee Gees Stayin Alive such an effective tool for mixing genres and generations.  It continues to amaze how often I get The Bee Gees Stayin Alive requested by people of all ages from teens, college students, middle-aged and older folks at weddings and parties. There are many remixes of The Bee Gees Stayin Alive out these days that are all fun and great party songs.
The Bee Gees Stayin Alive Music Video
The Bee Gees Stayin Alive is a disco song by the group Bee Gees from the Saturday Night Fever motion picture soundtrack. The song was written by the Bee Gees (Barry, Robin and Maurice Gibb) and produced by the Bee Gees, Albhy Galuten and Karl Richardson. It was released on 13 December 1977, as the second single from the Saturday Night Fever soundtrack. It is one of their signature songs. "Stayin' Alive" was placed at number 191 on the list of Rolling Stone's 500 Greatest Songs of All Time.
Upon release, "Stayin' Alive" climbed the charts to hit the number one spot on the Billboard Hot 100 the week of 4 February 1978, remaining there for four weeks. In the process, it became one of the band's most recognisable tunes, in part because of its place at the beginning of Saturday Night Fever."
The Bee Gees were an interesting group who made their name originally as a Soft Rock, almost Folk, in the 60's and early 70's. They had a completely different sound and energy in their first round as pop stars. They gained international success and lasted nearly forty years as recording and preforming artists.