This week's DJ Music Chart is in the format of Contemporary Hit Radio (CHR). The top five songs are by Justin Timberlake, Pink, Macklemore, Rihanna and Demi Lovato with "Mirrors" on top of the DJ Music Chart the week of May 21, 2013
The following DJ Music Chart is based on MediaBase data and is updated weekly. MediaBase monitors more than 1500 radio stations 24-hours-a-day, 7-days-a-week, in the top 140 US metro markets. Prime Cuts Music
DJ Music Chart Week of 5/21 CHR Format
DJ Music Chart – Contemporary Hit Radio (CHR) Format
"  A station which plays a significant amount of current popular music, whether singles or album cuts. As it is no longer unusual for a single to remain on the charts for 30-40 weeks or longer, "current" refers to music released within the last year. A more accurate description for "CHR" would be "Current Hit Radio". This format is the descendent of the Top 40 stations popular from the 50's through the 80's.
Although some CHR stations base their playlists on surveys of local record sales or phone requests, most rely on published charts such as the Billboard Hot 100. As of December, 1998, the Billboard Hot 100 chart began to include popular album tracks not commercially released as singles, and began weighing a song`s airplay three times as heavily as a song`s sales.  The Billboard Hot 100 chart is therefore a measure of which songs are being played on CHR stations which, in turn, base their playlists on Billboard`s Hot 100 chart.
Contemporary Hit Radio stations tend to concentrate on specific music styles, such as Rock or Urban, or a range of styles, such as Rock/Pop/Dance or R&B/Rap/Dance. Some CHR stations play a significant amount of hits released during the past ten or fifteen years, particularly if there are insufficient current hit releases which fall within the station's stylistic range." New York Radio Guide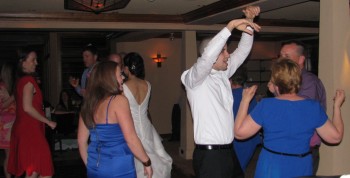 In plain English, CHR Format is Pop and Top 40 Radio Music, and the genre that compromise Top 40 typically. Which song is your current favorite form the DJ Music Chart this week?
DJ Mystical Michael Rhode Island DJ & Boston DJ
973.908.8147