Tag Archives:
RI Winter Wedding DJ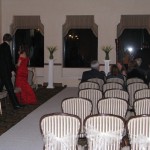 This gallery contains 23 photos.
  DJ Mystical Michael Rhode Island DJ & Boston DJ
It was a gorgeous Saturday Night closing out 2012 with a Fun Wedding and a great Bride and Groom. When I had first met with the Bride and Groom, the Bride smiled sheepishly and said, "Michael, I would be so happy if somehow it snowed really big flakes the morning of our Wedding, but not so much that it makes my friends and family not be able to attend our Fun Wedding. I think it would be so beautiful here at The Highlawn Pavilion to have thr grounds covered in snow!"
I laughed at the time at what seemed like a peculiar request. On the morning of their Fun Wedding, it snowed huge flakes and she was correct, it looked stunning at The Highlawn Pavilion in West Orange, New Jersey. When I drove in through the twisting road into Eagle Rock Reservation, where Highlawn Pavilion is nestled, I smiled from ear to ear as I approached the lights and snow-drifts. It looked like something out of a magazine. The New York City skyline in the background only added to the magical Winter landscape. I knew we were in for a special night, and I was correct this time.
 Simple and Elegant Fun Weddings are My Favorite
Everything went perfect, as they typically do in well-managed venues like The Highlawn Pavilion in West Orange. Of course, the Bride looked amazing and so did the Groom! I am still a fool when it comes to simple and elegant Weddings. I know it is trendy to go over-the-top with Weddings these days, but for me, simple and elegant Fun Wedding are the my favorite.
From their First Dance at Fun Wedding:
Friends having fun at Fun Wedding:
The Groom getting down with an old friend at Fun Wedding:
The Bride Partying with Friends and Family too at Fun Wedding:
The Bride and Groom were not the only romance going on that night at Fun Wedding:
And the young couples were not the only ones enjoying the gorgeous Wedding Night at Fun Wedding:
And the partying at the Gorgeous Wedding went till they asked us to shut-down at Fun Wedding:
Finally, the joy and celebration expanded with Friends and Family sharing the gorgeous Fun Wedding Night together:
But they asked for one more song to dance at the gorgeous Fun Wedding, so we honored their request:
What a beautiful and gorgeous Fun Wedding Night!
About Highlawn Pavilion, a Fun Wedding Venue:
Situated at the top of Eagle Rock Reservation, the building today known as Highlawn Pavilion, and the property around it, has a storied past.
"In 1909, an open masonry shelter affixed with a series of arches dubbed "the casino" was built on the crest of the Reservation and to this day serves as the bones of the structure that is Highlawn Pavilion.
The term "casino" refers to an Italian style county dwelling or summer house. As the Reservation became a popular spot where week-enders congregated the Italian term proved to be an accurate description.
Automobile enthusiasts of that period held races up the cobblestone roadway of Eagle Rock Avenue with the finish line in Eagle Rock Park, near where Highlawn is situated today.
After years of neglect, the casino was acquired by the Knowles family whose extensive renovation resulted in the creation of the restaurant known today as Highlawn."
In years past, I have not received many Brides and Grooms looking to hire my professional MC & DJ services for Winter Weddings here in the Rhode Island, Boston and Souther New England Region. There is this myth that Weddings need to be in warm weather only, my experience offers a different perspective about a Winter Wedding. A Bride and Groom can plan an amazing, simple and elegant Wedding in any season, including Winter Weddings. Each season offers a different set of opportunities and obstacles. Since most Brides and Grooms already are aware of the advantages of Spring, Summer & Autumn Weddings, in this post I will focus on the benefits of a Beautiful Winter Wedding.
Think of a cool, beautiful day with blue skies for miles and the sun warming bodies and buildings.  There is some snow on the ground but not too deep. Men get to actually wear their wool suits without having to drip with sweat from the heat. Women do not have to fret over frizzy hair from humidity.  For me, there is something entirely romantic and elegant about a room full of finely dressed men and women on a cold night celebrating love and hope together in an exquisitely lit room for your Winter Wedding .
I will not leave out the most obvious advantages to Rhode Island Winter Weddings; price and availability!
Availability. If you have ever tried to book a Wedding in June, July, August, September or October, you know what I am talking about. You feel like you have to fight your way just to give a venue, photographer, videographer, florist or DJ just to give them your money. This is not the case with most Wedding DJs and Vendors in November, January, February or March, we love Winter Weddings!
 The Cost of Rhode Island Winter Weddings Are Far Less Expensive
Cost. Times have changed and Brides and Grooms are not always able to plan their Dream Weddings as we could ten or fifteen years ago. At least not if you are trying to do so during Wedding season in Rhode Island. They know you need them and will charge you based on that premise. Rhode Island Winter Weddings are not as easy for Rhode Island Wedding DJs and Vendors to book and most are more apt to offer you a discount or at least throw in an additional service or two for no charge. For example, I usually will offer free Party Lights with Rhode Island Winter Weddings.
Rhode Island Winter Weddings are not for everybody, many of us need the warmth and fresh air that warmer season offer. Each Bride and Groom needs to determine what works best for them carefully. If you have any questions or concerns about planning your Rhode Island Winter Wedding, I invite you contact me and maybe I can help.
DJ Mystical Michael Rhode Island DJ & Boston DJ
Ask about my Rhode Island Wedding & Rhode Island Party DJ Guranate!