This is the third download in the DJ Classic Rock Mix series, DJ Classic Rock Mix III. This DJ Classic Rock Mix begins with The Kinks, includes The Rolling Stones and a medley by The Who and finishes with The Allman Brothers, and a host of other Classic Rock songs. As all these DJ Mixes have been, so much fun to make and hard to leave-out songs that would work great. My definition of Classic Rock is more expansive than any listed below, but thought you might appreciate some of these.
DJ Classic Rock Mix III
Classic Rock Mix III

- DJ Mystical Michael
Classic Rock. There are usually few people who would deny that this genre has some of the best music ever, especially with legendary bands like The Beatles, Led Zeppelin, The Rolling Stones, Jimi Hendrix and The Doors.
Definitions of Classic Rock
But one debate about classic rock still lingers on… and that is about the actual definition of classic rock. Some people say it's a style of sound. Some people say it's rock music that is older than 25 years old. Its often mentioned on this site, and people often ask my opinion. So I thought I would shed some more light on this long standing debate regarding the definition of classic rock.
To quote Wikipedia, here is their rather too detailed definition of classic rock
Classic rock is a radio format which developed from the album-oriented rock (AOR) format in the 1970s. The first station to broadcast the format full time, and the first station to use the term "classic rock" on the air was KRBE-AM (Houston) in 1983. Program director Paul Christy designed the format to play only early album rock, from the 1960s and early 1970s, without any current music or Top 40 material. In the United States, this rock music format now features a playlist of songs ranging from the 1960s and 1970s. The traditional classic rock genre usually ends in the early 1980s, with mid-80s additions from the hair metal genre only recently being considered "classic rock." Some stations continue to (wrongly?) include a limited number of current releases.
Unfortunately in my opinion this doesn't address a few key issues with this definition, which I have attempted to address with my very own definition of classic rock.  From, the Classic Rockers Network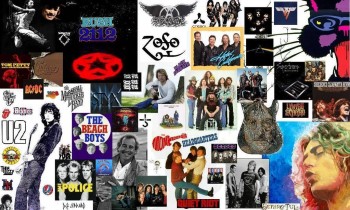 A definition of classic rock which helps clarify things

'Classic rock is a genre of music that combines a particular guitar-driven rock sound with a particular era of time. The classic rock era began in early 1960's with rock n' roll based bands like The Beatles and Rolling Stones, diversifying into bands like Led Zeppelin and The Doors.
The classic rock era ended in the early 80s, with the rise of modern pop music. It should not be confused with other rock genres like glam rock (e.g. David Bowie), heavy metal (e.g. Ozzy Osbourne and Metallica) and hair metal (e.g. Poison and Motley Crue). Even though new bands sometimes mimic the classic rock sound (e.g. The Black Crowes), they are not considered a true classic rock band because they are in the wrong era (not early 60s to early 80s). However, classic rock bands from the original era who still produce new music outside of that classic rock era (like The Rolling Stones) are grandfathered in and are still defined as classic rock (as long as their style hasn't changed).
There is an entertaining debate about what is and what isn't classic rock on this forum on Classic Rockers Network. Worth reading if you have the time.
If you would like me to send you a CD copy of the DJ Classic Rock Mix III or any of the DJ Classic Rock Mixes, I invite you to send e an email and I will mail it to you free of charge!
DJ Mystical Michael Rhode Island DJ & Boston DJ
973.908.8147