Tag Archives:
Old Mill Inn Wedding DJ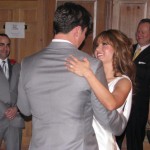 This gallery contains 25 photos.
DJ Mystical Michael Rhode Island DJ & New Yrok DJ
The Bride for the Wedding this Saturday at The Old Mill Inn in Basking Ridge, New Jersey asked me if I had Tired Old Souls by Marc Carroll.  She wanted it to be her Wedding Processional Song. I thought it would be a great song and fit her perfectly. Not all Brides are the same and I appreciate when a Bride choses a Processional  Song that expresses who she is and what it means to her.
Great Wedding Processional Song – Tired Old Souls by Marc Carroll
If it seems familiar to you, it was the Processional Song used in Ross and Emily's Wedding on Friends. It was played live by the band that Marc Carroll was in The Hormones.
It got me reflecting on what makes a good Processional Song. I figured I would take a look at what I could find on The Knot for possible alternatives. The list of Processional Songs does not stray too far from the traditional but still may be helpful to you.
Wedding Ceremony Music: 35 Processional Songs
Great Wedding Processional Songs – Traditional/Classic
1. "Air" (from Water Music Suite), (George F. Handel)
2. "Bridal Chorus" (from Lohengrin), (Richard Wagner)
3. "Canon in D" (Johann Pachelbel)
4. "Procession of Joy" (Hal Hopson)
5. "Rigaudon" (Andre Campra)
6. "Spring" (from The Four Seasons), (Antonio Vivaldi)
7. "Te Deum" (Marc-Antoine Charpentier)
8. "The Prince of Denmark's March" (Jeremiah Clarke)
9. "Trumpet Tune" (Henry Purcell)
10. "Trumpet Voluntary" (Jeremiah Clarke)
11. "Trumpet Voluntary" (John Stanley)
12. "Wedding March" (from The Marriage of Figaro), (Wolfgang Amadeus Mozart)
Great Wedding Processional Songs – Traditional Alternatives
13. "Canzon V" (Giovanni Gabrieli)
14. "Coronation March for Czar Alexander III" (Peter I. Tchaikovsky)
15. "Overture" (from Royal Fireworks Music), (George Frederic Handel)
16. "Promenade" (from Pictures at an Exhibition), (Modest Mussorgsky)
17. "Romeo and Juliet Love Theme" (Tchaikovsky)
18. "Sinfonia" (from Cantata No. 156), (Johann S. Bach)
19. "Toccata" (from L'Orfeo), (Claudio Monteverdi)
20. "Trumpet Tune in A-Major" (David N. Johnson)
21. "Sonatas for Organ, Op. 65, No. 3 (con moto maestoso)," (Felix Mendelssohn)
22. "Winter," Largo, (from The Four Seasons), (Antonio Vivaldi)
Great Wedding Processional Songs – Contemporary
23. "Appalachia Waltz" (Yo-Yo Ma, Edgar Meyer, Mark O'Connor)
24. "Sunrise, Sunset" (from Fiddler on the Roof), (Sheldon Harnick & Jerry Bock)
25. "The Look of Love" (Dionne Warwick/Burt Bacharach)
26. "The Vow" (Jeremy Lubbock)
27. "To A Wild Rose" (Edward MacDowell)
28. "Flatbush Waltz" (Andy Statman)
29. "Wedding Processional" (from The Sound of Music), (Richard Rodgers & Oscar Hammerstein)
Great Wedding Processional Songs – Religious/Sacred
30. "All People That On Earth Do Dwell" ("Old 100th" hymn)
31. "Dona Nobis Pacem" (16th century hymn)
32. "Hanava Babanot" (A Love Song), (Neeman)
33. "St. Anthony's Chorale" (Franz Joseph Haydn)
34. "Hymn Fanfare from The Triumphant" (Francois Couperin)
35. "Scalero de Oro" (traditional Sephardic)

DJ Mystical Michael Rhode Island DJ & Boston DJ