This past Saturday we performed as DJ and MC for a fun Rhode Island Wedding at The Nauvoo Grill Club in Fair Haven, New Jersey. If you have never been there, you are in for a treat! It was our first time as DJ and MC at Nauvoo Grill Club and they did a fantastic job. If you are looking for an excellent venue for your Wedding or Party, I invite you to explore their website and look around. They have great atmosphere, a cool upper deck, awesome food and a professional, but laid back staff. We DJ many Weddings and Parties in the New Jersey, New York and Pennsylvania area and we were very impressed.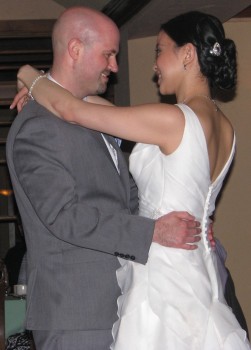 The Bride and Groom themselves must have put great thought into their choice of venue for their Wedding, because they were equally laid back, simple and great to work with. It fit them perfectly and it was such a nice, simple and elegant Wedding. The Bride looked fabulous and so did the Groom for that matter. Their friends and family had a great time and enjoyed everything. The music for the Cocktail Hour consisted mostly of soft Modern and Classic Rock with some new Top 40 mixed-in to make sure everybody was happy.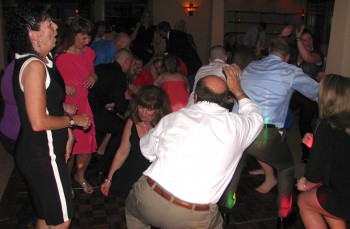 Fun Rhode Island Wedding DJ at Nauvoo Grill Club
When most guests were finished with the quality buffet, a woman who identified herself as, "A sixty-two year old lady who wants to dance and party!", came up and asked requested us to play some Pitbull and Jennifer Lopez to get the dancing started. Five minutes later the dance floor was packed and stayed that way till the end! We played DJ Music for dancing for young and old, mixing Frank Sinatra and Elvis Presley with Neyo, Jackson 5 and Bruce Springsteen, the latter being the Groom's request.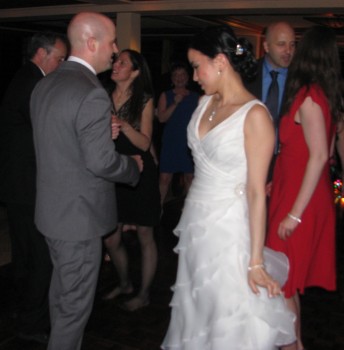 It is so satisfying as a Rhode Island Wedding DJ to participate in such an excellent Wedding with the Bride, Groom and their guests. It was so much fun with no cheesy music or elements, a great simple and elegant Wedding on the Jersey Shore, less than three blocks from water.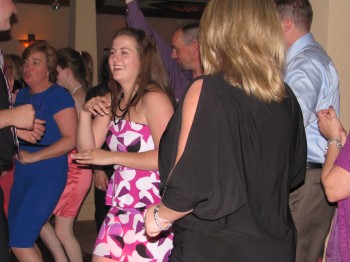 DJ Mystical Michael Rhode Island DJ & Boston DJ
973.908.8147