7 Wedding Traditions that Need to Die
For the record, I do not necessarily agree with the author of this article but thought it was interesting and makes for fun conversation. Some Wedding Traditions do seem a bit outdated for many young couples but, have value for others. One of the benefits of being a Wedding DJ these days is that Brides and Grooms can create whatever they want for your Wedding together with your Wedding DJ. You can include, recreate or leave out whatever Wedding Traditions you want.
By Cosmopolitan.com | Love + Sex – Thu, May 9, 2013 5:24 PM EDT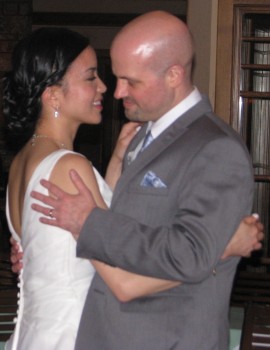 7 Wedding Traditions that Need to Die
A recent poll showed that more women are changing their last names after getting hitched, and I plan on following the crowd after I get married next summer. But there are a ton of other outdated traditions that my man and I need to figure out about before the day comes. IMHO, these are totally old-fashioned…
1. The bouquet toss
I used to think the bouquet was the most exciting part of a wedding. When I was 12. As I got older, and the crowd of women around me hungering for the bride's flowers thinned out to a handful of tweens and me, I realized how awful this tradition really is. Plus, I'm selfish and want to keep my bouquet to myself, m'kay?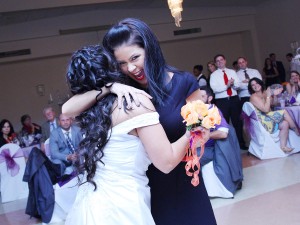 2. The garter retrieval
There's nothing less sexy than your guy burrowing his head under your wedding dress while your dad-and his-watch. Not to mention your mother, your mother-in-law, your friends…need I go on? My groom can put his head between my legs all he wants on our honeymoon, but not in front of our nearest and dearest.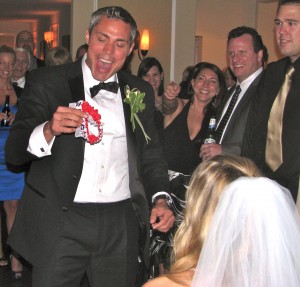 3. Bridesmaids
Why, in 2013, are we still down with the idea of forcing our friends to buy ugly coordinated dresses and stand up in uncomfortable high heels next to us while we get married? There is literally no reason to do this, now or ever. Sure, I suppose some people like the cuteness of taking pictures with their friends in matching outfits, but I did enough of that at the mall's glamour shot booth in middle school. Not trying to hate on gals who dream of a big bridal party, but I honestly don't see the point.
4. The white dress
Full disclosure: I bought a white dress for my wedding. But I can't say I wasn't tempted by the blush, pink, and red frothy creations that have been floating down runways and taking up valuable real estate in bridal salons. While I chose to wear white-mainly because it fits my personal vision of how I'd like to look as a bride-I don't like the kinda sexist, virgin-y undertones of the tradition.
5. The father give-away
This is another thing I'm probably going to do, even though I'm not totally down with the origin of the tradition-as in, the suggestion that a woman is an object given to her husband from her dear old dad. Still, I don't want to walk down the aisle alone (I'll trip and fall on my face, knowing my lack of composure in these types of high-pressure situations), my mom has politely declined the job for fear of the same aforementioned clumsiness, and I have two amazing fathers-my dad-dad and my step-dad-who would happily escort me. And, more importantly, keep me upright.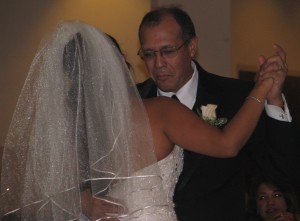 6. The not-seeing-each-other-beforehand thing
Honestly, I love this tradition of not seeing my groom until I'm walking down the aisle. It's kinda romantic, right? But I don't like the idea of following a superstition that, if we happen to catch a glance of each other, bad luck will befall our marriage. Plus, I'm going to be nervous as sh*t pre-ceremony and I want to be able to hug my fiancé and hear him tell me how pretty I look before we swap vows.
7. The cake smashing
It's become custom for couples to get into a mini food fight after cutting their ungodly expensive wedding cake. I get it. It's funny to see people in fancy clothing with food on their faces. Maybe I'm a bit uptight, but I'd prefer not to have chocolate ganache smeared up my nose (or on my dress) on my wedding day. Considering that most couples don't get a chance to eat at their receptions, I'd much rather put that cake where it belongs-in my belly. And then get myself back out on that dance floor.
via 7 Wedding Traditions that Need to Die | Love + Sex – Yahoo! Shine.
What do you think about this article? Which Wedding Traditions do you agree or disagree with the author that should be removed from Modern Weddings?
DJ Mystical Michael Rhode Island DJ & Boston DJ
973.908.8147