For more than half a century, Celia Cruz, the Queen of Salsa carried her title with class and distinction. Her powerful voice and electrifying rhythm garnered more than 100 worldwide recognitions, multiple platinum and gold records, three GRAMMY awards and four Latin GRAMMY awards, as well as a star on Hollywood's Walk of Fame. Her boundless enthusiasm, genuine warmth, and deep-seated humanitarianism made Celia Cruz the music industry's most accomplished and revered performer … and the world's most notable ambassador of Hispanic culture. Celia Cruz Website
On Saturday Night, I was the DJ & MC for a very fun 50th Birthday Party at Iberia Peninsula      Restaurant in Newark, New Jersey. Of course, the music was fabulous with the diverse party guests from New Jersey and New York City from all cultures and walks of life. I find it such a fun challenge to provide music for dancing for diverse audiences that don't all enjoy the same music. It reminds if my days as a community organizer bringing groups together to create a common positive goal as one.
The playlist we created in advance included lots of Frank Sinatra, Rod Stewart, 80's Dance Music, Thrift Shop and a significant chunk of Salsa, Merengue and Flamenco songs. Of course, Celia Cruz La Vida Es Un Carnaval was near the top of the DJ song list, in the "must-play" category, and we did. As usual, the response was great and the dance floor was packed with dancers smiling with joy. I thought it was time for me to pay tribute to Celia Cruz and her greatness, especially since she is somewhat of a local legend living many years in New Jersey.
Celia Cruz – La Vida Es Un Carnaval Music Video
"I feel very fortunate to have called Celia Cruz my friend. She was an inspiration not only as an artist but as a woman and a remarkable human being." Gloria Estefan
 
(Celia Cruz) Úrsula Hilaria Celia de la Caridad Cruz Alfonso de la Santísima Trinidad (October 21, 1925 – July 16, 2003) was a Cuban-American salsa performer. One of the most popular salsa artists of the 20th century, she earned twenty-three gold albums and was renowned internationally as the "Queen of Salsa" as well as "La Guarachera de Cuba."

She spent much of her career living in New Jersey, and working in the United States and several Latin American countries. Leila Cobo of Billboard Magazine once said "Cruz is indisputably the best known and most influential female figure in the history of Cuban music."
"Celia Cruz was an absolute pillar as a human being and one of the most unselfish humanitarians I have ever met and am sure I will ever have known." Marc Anthony
Celia Cruz Legacy
In February 2004, Celia Cruz last album, Regalo del Alma, won a posthumous award at the Premios Lo Nuestro for best Salsa release of the year. It was announced in December 2005 that a musical called "Assuca" would open in Tenerife before touring the world. The name comes from Cruz's well-known catch phrase of "¡Azúcar!"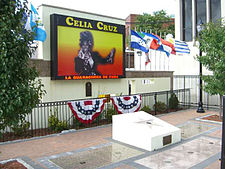 On June 4, 2004, the heavily Cuban-American community of Union City, New Jersey heralded its annual Cuban Day Parade by dedicating its new Celia Cruz Park (also known as Celia Cruz Plaza), which features a sidewalk star in her honor, at 31st Street and Bergenline Avenue, with Celia Cruz's widower, Pedro Knight, present. There are four other similar dedications to Cruz around the world. Celia Cruz's star has expanded into Union City's "Walk of Fame", as new marble stars are added each spring to honor Latin entertainment and media personalities, such as merengue singer Joseíto Mateo, salsa singer La India, Cuban musician Israel "Cachao" Lopez, Cuban tenor Beny Moré, Tito Puente, Spanish language television news anchor Rafael Pineda, salsa pioneer Johnny Pacheco, singer/bandleader Gilberto Santa Rosa and music promoter Ralph Mercado.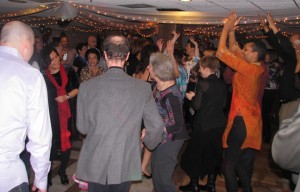 On May 18, 2005, the National Museum of American History, administered by the Smithsonian Institution and located in Washington, D.C., opened "¡Azúcar!", an exhibit celebrating the life and music of Celia Cruz. The exhibit highlights important moments in Cruz's life and career through photographs, personal documents, costumes, videos, and music.
On September 26, 2007, through May 25, 2008, Celia, a musical based on the life of Celia Cruz, played at the off-Broadway venue, New World Stages. Some performances were in Spanish and some in English. The show won four 2008 HOLA awards from the Hispanic Organization of Latin Actors.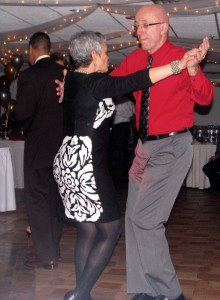 "I had the honor and pleasure of photographing Celia for twelve years. I'll never forget her smile and her amazing energy. The biggest thing about Celia is that she never knew how great she truly was. She always made me feel so proud to be Cuban."
Alexis Rodriguez-Duarte
DJ Mystical Michael Rhode Island DJ & Boston DJ
973.908.8147