Saturday Night we had a fun night of music and dancing at Barefoot Boogie NYC. I do not always get to play music to such a diverse and creative group of dancers. Also, several good, old friends were present as an additional treat for me.
What is The Barefoot Boogie?
The Barefoot Boogie is a freestyle dance which happens twice a month in New York City. We offer a relaxed, smoke- and alcohol-free environment where folks can freely express themselves in movement.
If you've enjoyed any kind of conscious dance, ecstatic dance, 5 Rhythms, JourneyDance, contact improvisation, or any other kind of freeform dance, you'll enjoy the Barefoot Boogie.
People of all ages, families and kids are welcome. Come alone or bring your friends. You'll find folks at the dance moving solo, with partners, and/or in groups. Dress as you wish, but please leave your street shoes at the door before hitting the dance floor. The Barefoot Boogie is a not-for-profit, cooperative and volunteer-run venture.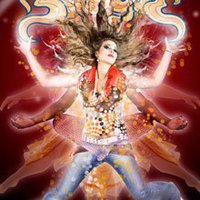 What Kinds of Music is Played at The Barefoot Boogie?
From our pool of talented DJs, two spin each dance. Each of our DJs has his or her own distinctive style, but one thing you can rely on is that at every Boogie you'll hear a wide variety of music: R&B, World, Funk, Tribal, Hip Hop, Ambient, Reggae, House, African, Electronica, Disco, Rock, Techno, Drum & Bass, etc.
All professional DJs enjoy the opportunity to volunteer for such a fantastic community of dancers. Fun night at Barefoot Boogie, so grateful.
DJ Mystical Michael Rhode Island DJ & Boston DJ
973.908.8147