Tag Archives:
Bride and Groom Cake Cutting Song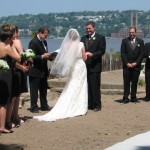 This gallery contains 32 photos.
DJ Mystical Michael Rhode Island DJ & Boston DJ 973.908.8147
The following are the Top 50 Most Requested Cake Cutting Songs for 2011 as compiled by DJ Intelligence. Cake Cutting is a fun and honored tradition at most Western Weddings.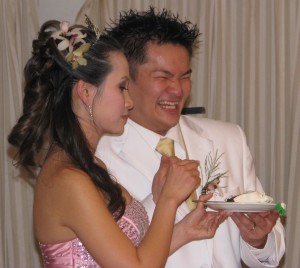 The wedding cake is often a multi-tiered layer cake that is elaborately decorated with white frosting. Some couples have a smaller display cake, which is supplemented by sheet cake.
The groom's cake is a tradition observed mainly in the southern United States. In the Colonial and Victorian eras, the white-iced bride's cake was considered "too light" for male tastes, and a second cake choice—usually a dark, liquor-soaked fruitcake—was also offered. Today, chocolate is popular, although the groom's cake may be in any flavor and is usually shaped or decorated as something significant to the groom, such as a favorite hobby or sport.
If a full meal is served, the wedding cake is usually served after the meal. Otherwise, the cake may be served as soon as the family has received all of the guests.
Commonly, the couple ceremonially cut the first piece of the cake, and in a nod to an ancient Roman wedding rite, may feed a bite to one another and perhaps sip a glass of wine or other drink with linked arms. Then the cake is served to the guests. Like being asked to pour tea at a formal tea party, being asked to serve the cake is generally considered an honor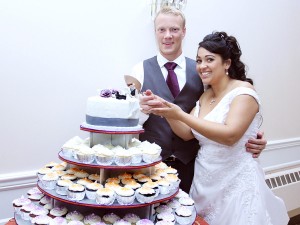 Top 50 Wedding Cake Cutting Songs
Archies – Sugar, Sugar
James Taylor – How Sweet It Is (To Be Loved By You)
Def Leppard – Pour Some Sugar On Me
U2 – Sweetest Thing
Jason Mraz – I'm Yours
Jason Mraz & Colbie Caillat – Lucky
Jack Johnson – Better Together
Four Tops – I Can't Help Myself (Sugar Pie, Honey Bunch)
Beatles – When I'm Sixty-Four
Nat King Cole – L-O-V-E
Plain White T's – 1,2,3,4 (I Love You)
Average White Band – Cut The Cake
Queen – You're My Best Friend
Pat Benatar – Hit Me With Your Best Shot
Frank Sinatra – Love And Marriage
Cake – Love You Madly
Unkle Kracker – Smile
Natalie Cole – This Will Be (An Everlasting Love)
Beatles – All You Need Is Love
Dean Martin – That's Amore
Iz – Over The Rainbow
Michael Buble – How Sweet It Is
Michael Buble – Everything
Ingrid Michaelson – The Way I Am
Turtles – Happy Together
Sarah McLaughlin – Ice Cream
Sonny & Cher – I Got You Babe
Etta James – At Last
Christina Aguilera – Candyman
Big & Rich – Lost In This Moment
Foundations – Build Me Up Buttercup
Counting Crows – Accidentally In Love
Ray Lamontagne – You Are The Best Thing
Elvis Presley – Can't Help Falling In Love
Louis Armstrong – (What A) Wonderful World
Harry Connick, Jr. – Recipe For Love
Lonestar – Amazed
Bob Marley – Is This Love?
Michael Franti & Spearhead – Say Hey (I Love You)
Tim McGraw – My Best Friend
Taylor Swift – Today Was A Fairytale
K-Ci & Jojo – All My Life
Taylor Swift – Love Story
U2 – Beautiful Day
Kelly Clarkson – A Moment Like This
Harry Connick, Jr. – It Had To Be You
Adam Sandler – Grow Old With You
Aerosmith – I Don't Want To Miss A Thing
Dave Matthews Band – You And Me
Dixie Cups – Chapel Of Love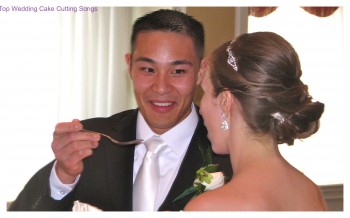 I noticed that The Beatles "In My Life" is not on the list for 2011 Cake Cutting Songs, but I am pretty sure it was for 2012. It is a beautiful song and becoming very popular again as a Cake Cutting Song. It is always interesting to me as a professional Wedding DJ when old songs get a second life, years later for what seems out of the blue.
Here are other blog posts that may be helpful to you Top 50 DJ Wedding Last Dance Songs, Popular Garter Toss Songs, Wedding DJ Father-Daughter Dance Songs, DJ Wedding Mother-Son Dance Songs, Popular Bridal Party Introduction Songs for Wedding DJs and Popular Bouquet Toss Songs.
What is your favorite Wedding Cake Cutting Song?
DJ Mystical Michael Rhode Island DJ & NY DJ
Ask about my Rhode Island Wedding DJ & Rhode Island Party DJ Guarantee!