Wedding Entrance Music
Time to choose your wedding entrance music! Your ceremony is over and it is time for the celebration to begin. After you have had your photographs taken and your guests have mingled and had a drink during cocktail hour, it is time to sit down for the reception.
How To Hire The Best Wedding DJ!
On your way over to the reception venue, give your MC or best man a call so that they can get all your guests to move to their seats.
Alternatively, arrive quietly during the cocktail hour, mingle a little, have a drink and do the formal grand entrance once your guests have taken their seats.
Or you could also enter while the guests are still having cocktail hour. It depends on how much of a grand entrance you plan to make.
Your wedding entrance music or grand entrance song (as it is also known) is a tradition meant to announce you for first time as husband and wife. It is also tradition to announce the rest of the bridal party, but it is not always necessary with smaller weddings where everyone will know one another or with less formal events.
The wedding entrance music you choose should reflect that the fun and celebration is about to start. You can of course choose something more epic if you wish, but generally it should be an upbeat, well-known song to get your guests enthusiastically clapping and welcoming you.
How To Choose The Perfect Wedding Entrance Music
Here are a few questions to ask yourselves to help you decide on the perfect wedding entrance song to use for your grand entrance, and to decide how you want this important event to play out:
1. Will your guests and wedding party recognize the song, or is it too new or obscure to be appreciated?
2. Does it reflect your personalities as a couple and your wedding party?
3. Is this wedding entrance music appropriate for the wedding reception? – even with the most formal of occasions it is appropriate to have a fun and upbeat song for this occasion, but it is never appropriate, no matter how informal the reception is, to play an offensive song with explicit lyrics.
4. Do you want to use an instrumental song or version of a song, or one with lyrics too?
5. Is your wedding party to be announced too, or will it just be the bride and groom?
6. How would you like to be announced – as Mr & Mrs Jones, the Bride and Groom or simply John and Mary?
7. Keep in mind that you will only use a small part of the song (the first minute or so), so choose something that has impact in the first 30 seconds.
8. Enhance your grand entrance further with some special effects – ask your dj or band if they can provide a bubble machine or a smoke machine, or hire one in from an audio visual company.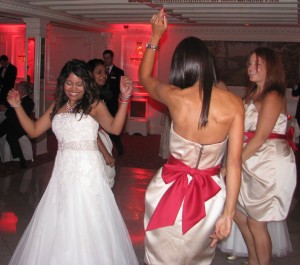 Once your best man or MC has asked all your guests to be seated, he will gather up the two of you and your wedding party (if they are to be announced as well) outside of the reception area. He must make sure that the DJ or band leader is aware that you are about to do the grand entrance and should have the appropriate music ready.
Choose an entrance song for your wedding party. The grandparents can be acknowledged and introduced where they are seated in the reception area. The bride's parents will then be introduced followed by the groom's parents, the bridesmaids and groomsmen, the flower girls and ring bearer, the maid/matron of honor and the best man.
Choose a second wedding entrance song for yourselves, the Bride and Groom.
Wedding Entrance Music Suggestions:
Good Times – Owl City ft. Carly Rae Jepsen
Pound The Alarm – Nicki Minaj
Feel So Close – Calvin Harris
Good Feeling – Flo Rida
Dynamite – Taio Cruz
Marry You – Bruno Mars
Yeah (3x) – Chris Brown
Firework – Katy Perry
I Gotta Feeling – Black Eyed Peas
Say Hey – Michael Franti
Party Rock Anthem – LMFAO
Raise Your Glass – Pink
Get Up Off Of That Thing – James Brown
Get Ready For This – 2 Unlimited
Sandstorm – (Originally by Darude)
Rock and Roll Part 2 – Gary Glitter
St Elmo's Fire – David Foster
Peter Gunn Theme – Henry Mancini
Love Walks In (Intro) – Van Halen
Praise You – Fatboy Slim
Axel F – Harold Faltermeyer
It Had to Be You – Various Artists
Gonna Fly Now – Original Rocky Movie Soundtrack
Lets Get Ready To Rumble – Jock Jams
Austin Powers Theme Song – Austin Powers Soundtrack
Walk This Way – Aerosmith
Ain't That A Kick In The Head – Dean Martin
Lovely Day – Bill Withers
Who Let The Dogs Out – Baha Men
I Feel Good (I Got You) – James Brown
Groove Is In The Heart – Deee Lite
Let's Get Loud – Jennifer Lopez
We Are Family – Sister Sledge
Celebration – Kool and the Gang
Walking On Sunshine – Katrina & The Waves
Crazy Little Thing Called Love – Queen or Michael Buble
Another One Bites the Dust – Queen
Tequila – The Champs
Puttin' on the Ritz – various artists, including Frank Sinatra or Benny Goodman
Joy To The World – Three Dog Night
I'm A Believer – The Monkees or Smashmouth
Let's Get It Started – Black Eyed Peas
Everybody Have Fun Tonight – Wang Chung
Breezin – George Benson
Wipeout – Surfaris
Banana Wind – Jimmy Buffett
Top Of The World – Van Halen (cued up to chorus)
1999 – Prince
The Lion Sleeps Tonight – Various
Beautiful Day – U2
Here Comes The Hot Stepper – Ini Kamozie
All You Need Is Love – The Beatles
20th Century Fox Studio Theme
Love Train – The O'Jays
Party Like A Rock Star – Shop Boyz
Batter Up – Nelly
Shake Your Booty – KC & The Sunshine Band
Do Your Thing – Basement Jaxx
Right Here, Right Now – Fatboy Slim
Battle Without Honor or Humanity – Tomoyasu Hotei
Breathe Your Name – Sixpence None The Richer
Higher Ground – Stevie Wonder
via Wedding Music Help.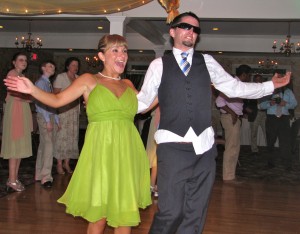 Here are other posts that may be helpful to you Top 50 DJ Wedding Last Dance Songs, How To Hire The Best Wedding DJ,  Popular Garter Toss Songs, Wedding DJ Father-Daughter Dance Songs, Wedding DJ Mother Son Dance Songs, Top 50 Wedding Cake Cutting Songs, Popular Bridal Party Introduction Songs for Wedding DJs and Popular Bouquet Toss Songs.
What is your favorite Wedding Entrance Music or Bridal Party Introduction Song?
DJ Mystical Michael Rhode Island DJ & Boston DJ
Ask about my Rhode Island Wedding DJ & Rhode Island Party DJ Guarantee!