This blew my mind when I read this on Billboard! Iggy Azalea is now keeping company historically with The Beatles!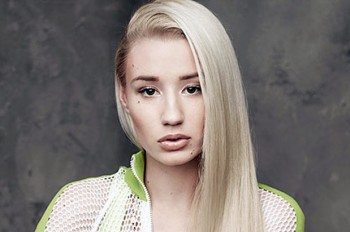 Iggy Azalea Tops Hot 100 With 'Fancy,' Matches Beatles' Historic Mark by Gary Trust
"As the Australian rapper rises 2-1 with 'Fancy' and 3-2 as a guest on Ariana Grande's 'Problem,' Azalea joins the Beatles as the only artists to rank at Nos. 1 and 2 simultaneously with their first two Hot 100 hits
It's a fab week for Iggy Azalea, who earns a chart honor not achieved since the Beatles swarmed the U.S. in early 1964. The Australian rapper crowns the Billboard Hot 100 with her debut hit "Fancy," featuring Charli XCX (2-1). As Azalea also rises 3-2 as the featured artist on Ariana Grande's "Problem," Azalea joins the Beatles as the only acts to rank at Nos. 1 and 2 simultaneously with their first two Hot 100 hits.
Action abounds on this week's Hot 100, including climbs into the top 10 for Nico & Vinz and Jason Derulo, while "Fancy" additionally takes over atop the Digital Songs chart, so let's dive into our weekly look at the numbers behind the Hot 100's top 10 and more.
Iggy Azalea, Charli XCX – Fancy (2014 Billboard Music Awards) Video
Iggy Azalea adds a chapter to the Hot 100's record book by achieving a feat that the Beatles last earned on the Feb. 22, 1964, chart. That week, the Fab Four's debut pop culture-changing smash "I Want to Hold Your Hand" held at No. 1 and "She Loves You" lifted 3-2. The songs had debuted the weeks of Jan. 18 and 25, 1964, respectively, and soared to the chart's top two spots after the band made its landmark appearance on "The Ed Sullivan Show" on Feb. 9, 1964.
(Incredibly, "Hand" and "Loves" would hold the top two rungs for six weeks, with "Hand" on top for four frames before they swapped spots. On April 4, 1964, "Loves" fell 1-3 and "Hand," 2-4, so, that week, the Beatles would have to settle for a consolation prize: the group locked up the April 4 list's entire top five, the only time an act has monopolized the region in the Hot 100's 55-year history.)
Flash-forward 50 years to March 22, 2014, when Iggy Azalea's "Fancy" bowed at No. 88. On the May 17 tally, Iggy Azalea launched her second entry, as Grande's "Problem" roared in at No. 3. (The same week, Iggy Azalea's "Work" entered at No. 88; the cut climbs 77-63 this week.)
Iggy Azalea Work Video
Expanding beyond only artists' first two Hot 100 hits placing up at Nos. 1 and 2 in the same week, Iggy Azalea is the 15th act to double up at those ranks with any two titles. Iggy Azalea's the first since Pharrell Williams did so for five weeks last year as featured on Robin Thicke's "Blurred Lines" (also featuring T.I.) and Daft Punk's "Get Lucky." She's just the third woman to rank at Nos. 1 and 2 concurrently, following Mariah Carey (Sept. 10, 2005) and Ashanti (five weeks, 2002).
Iggy Azalea additionally becomes only the fourth solo female rapper ever to top the Hot 100. Lauryn Hill was the first, having taken her debut solo hit "Doo Wop (That Thing)" to No. 1 for two weeks in November 1998. (She had first made her mark with the Fugees.) In 2001, Lil' Kim led for five weeks with Christina Aguilera, Mya and P!nk on "Lady Marmalade," while Shawnna assisted Ludacris on "Stand Up," which topped the Dec. 6, 2003, chart.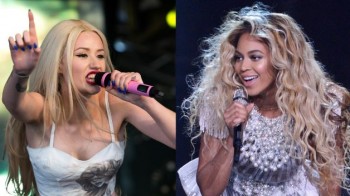 Notably, a pair of other prominent female rappers have yet to reach the Hot 100's summit. Among her nine top 10s, Missy Elliott climbed to No. 2 twice: for 10 weeks in 2002 with "Work It" and for seven frames in 2005 as a guest on Ciara's "1, 2 Step." Nicki Minaj has also tallied nine top 10s, reaching No. 3 twice, both in 2011: as featured on Britney Spears' "Till the World Ends" and with her own "Super Bass." This week, Minaj debuts at No. 47 on the Hot 100 with her new single "Pills N Potions."
(Honorable mention to Blondie, who, led by frontwoman Debbie Harry, is widely regarded as scoring the Hot 100's first rap No. 1, "Rapture," in 1981.)
Not to be lost in the celebration of Iggy Azalea's new Hot 100 leader, Charli XCX likewise lands her first No. 1. In her sole prior visit, the U.K. pop singer/songwriter peaked at No. 7 a year ago this month as featured on Icona Pop's "I Love It."
Until this week, the last time that at least two solo women had teamed for a Hot 100 No. 1? Rihanna and Britney Spears sent "S&M" to the top of the April 30, 2011, chart. That title marked the first all-solo female No. 1 collab since "Lady Marmalade" nearly 10 years earlier. (The last pairing of only two solo women at the summit prior to "Fancy" and "S&M"? Brandy and Monica, who fought their way to No. 1 for 13 weeks in 1998 with "The Boy Is Mine.")
(One other fun fact regarding the coronation of "Fancy": the new Hot 100 is dated June 7, 2014. That makes for a perfect birthday present for the soon-to-be 24-year-old Azalea, who was born on June 7, 1990.)
How did "Fancy" fly to the Hot 100's top spot? The song surges by sweeping the chart's top Digital, Streaming and Airplay Gainer awards (for the second time in four weeks). It rises 2-1 on Digital Songs with a 44 percent gain to 336,000 downloads sold, according to Nielsen SoundScan. Aiding the song's advance? Azalea and Charli XCX performed it on the Billboard Music Awards on May 18, the day before the latest sales tracking week began on May 19. "Fancy" spends a second week at No. 1 on Streaming Songs (14 million U.S. streams, up 66 percent, according to Nielsen BDS) and reaches the Radio Songs top five (7-5; 104 million, up 23 percent).
Ariana Grande, Iggy Azalea – Problem (Billboard Music Awards) Video
"Problem," meanwhile, pushes 3-2 on the Hot 100, also with gains in each of the chart's three metrics. It dips 1-2 on Digital Songs after spending its first three weeks at No. 1, but grows by 15 percent to 284,000. Grande likewise sang the song on the Billboard Music Awards (after Azalea performed "Fancy"; Azalea returned to the stage to join Grande for "Problem"). It slips 2-3 on Streaming Songs (10.4 million, up 39 percent) and bounds 16-10 on Radio Songs top 10 (73 million, up 30 percent), where it's her first top 10 hit; her debut single, "The Way," featuring Mac Miller, reached No. 12 on Radio Songs last year.
As she competes with herself (and Grande) at No. 2, Azalea handily lands the Hot 100's top spot, as "Fancy" (up 46 percent) boasts 28 percent more overall chart points than "Problem" (up 25 percent)."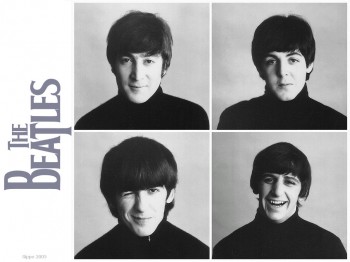 What a great accomplishment for the young artist Iggy Azalea. Regardless of what you think of her music, this is a unique experience and needs to be acknowledged.
DJ Mystical Michael Rhode Island DJ and Boston DJ
Ask about my Rhode Island Wedding DJ and Rhode Island Party DJ Guarantee!