Tag Archives:
Backyard wedding DJ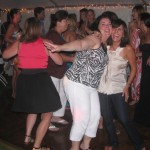 This gallery contains 8 photos.
DJ Mystical Michael Rhode Island DJ & NY DJ
Last night I was on the phone with The Bride and Groom whom are getting married on Saturday. They are having their Ceremony at a local park and then the Reception in the backyard of their home.  It will only be the second backyard wedding I will do this Wedding season. The other was in a soggy, muddy yard but we still had a great time. I have no doubt this one will be fun as well.
I continue to enjoy the diversity of music that couples are wanting at their weddings as a professional DJ. This one will feature some Soft Rock, Classic Rock, Motown, Nat King Cole, 80's and a few Pop songs. Only a few years ago a professional DJ would never have dreamed of getting to play The Police, Dave Matthews Band, Marvin Gaye, Cake, Cyndi Lauper and Nat King Cole at the same wedding. I am fortunate that most of the couples I work with as a professional DJ are not cookie-cutter follow whatever are popular types. They ask me if it is OK to add obscure or unusual songs and artists to their playlists. I always say, "Yes" but remind them that they have to consider their guests and how it will work for them too.
I am grateful I get to offer three decades of experience as a a professional Wedding DJ. It is their decisions but I make sure they know what might happen and what typically is successful and what is not. This is where an experienced, professional DJ can support you in putting together a fun, successful event. We can also let you know during the event if the music selected is not working and guide planners and couples in a direction that may be more effective.
Like any professional, as a DJ I like to perform well at my craft. What time has taught me is that it is more than that. We do not get a 'redo' if your wedding or event does not have the right energy and music to be extraordinary. There is no second chance to make it amazing.  We have one shot and I take that very seriously even if it looks like I am just relaxing and having fun. I do not want to go home knowing I did not do my part in facilitating an wedding or event that people are full of smiles and memories. It is part professional and part ego. Together they keep me on my toes so I am ready for every event no matter what. I performed as DJ at a wedding before and after the week I moved my home. Both weddings were fabulous and I expect nothing less from myself. That is why I offer the guarantee that I do. I know my craft and have enough successful experience as a professional DJ to support the skills and talent with confidence and preparedness.
Saturday is less than two days from now! Can't wait to plug-in and turn-up the volume!
Over the years I have had the opportunity to be a professional DJ at some outdoor events. They are fun and simple. They have the benefit of typically being laid back parties with plenty of good food and atmosphere.  It is also different for us as professional DJs to be at events that people are dressed so casually, as opposed to a wedding or corporate event where we are all dressed more formally. But a professional BBQ DJ?
Outdoor parties give us chance to spread our wings a bit more than usual since they are typically longer and less structured than indoor events. Besides, when do you get to smell freshly cooked BBQ at an indoor event?  If you are the professional DJ at the right event, the professional DJ PA system is cranked up pretty loud and fills a backyard or park area with great music.  Nothing like corn on the cob with Marvin Gaye or The Beatles!
Choosing which music to play at an outdoor event requires a bit of a different touch. Since generally the dancing won't get into high gear till the sun is fading and the moon is making its appearance, guests will want to hear the music that they listen to at home and with friends.  This often means a professional DJ needs to prepared to  play Bob Seger, Bob Dylan, Bob Marley, Bobby Darin, Bob Geldoff, Bobby McFerrin, The Bobs and The Bobbettes! Or Michael or Donna or Rihanna.  That can mean you may end up playing Eric Clapton, The Temptations, Sly and The Family Stone, Lauryn Hill and The Fugees, Lady GaGa, Led Zeppelin, Bruce Springsteen, Barry White and India Arie all in the same afternoon before it gets dark and the dancin' begins!
It's July and the summer season is in full swing here in the NJ, NY & PA area. I am excited about the one time of year we get to play music for these types of events.  Put on the charcoals and break out the baked beans because Summer and outdoor parties are here and we are ready to rock them out! Can you pass me the potato salad please?