"You played a nice selection of music including what we requested, great sound system too. Somehow you managed to meet the needs of a pretty diverse group of people and kept people on the dance floor all night. How did you get people to actually dance during dinner? I have never seen a DJ do that at a wedding before. Thanks again"  Nathan and Emma Irvin (Wedding)
Bose L1 System with Bass DJ Equipment Demo
As a professional Rhode Island DJ & Boston DJ, I use only the best audio DJ equipment money can buy for your wedding or party. Exceptional events and exceptional DJs need exceptional sound. That's why I use BOSE.
Bose L1 System with Bass DJ Equipment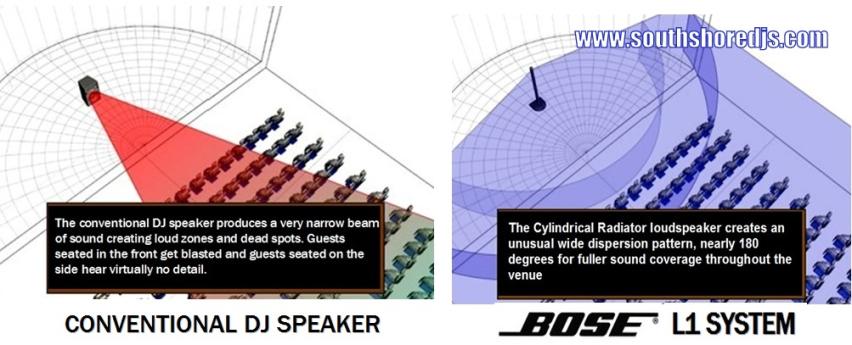 Looks puny? Wait till you hear it Cranked-Up!
Bose L1 System with Bass DJ Equipment Video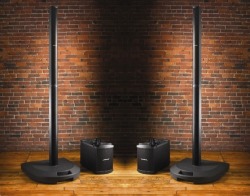 Exceptional sound evenly dispersed throughout the entire space. You want everybody to appreciate the great music. Imagine dancing far away and still hear the music like the couple sitting right next to the speaker. The bass will appeal to your senses by its sheer quality. Once you are hooked on the Bose L1 sound, you will never settle for anything else. Excellent for Weddings, Parties and those appreciating good, clean sound.
Bose L1 System with Bass DJ Equipment Video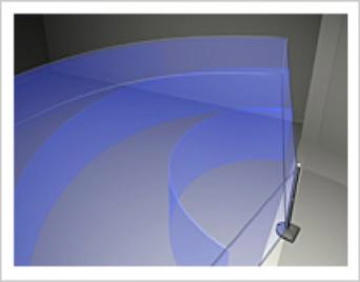 For me, I get such a kick out of watching people walk up and stare at the system trying to figure out how this thing is putting out such great sound with such little space and mess. It is truly amazing! I get excited every time I have the opportunity to show it off and turn people on to what real live sound can be like.
Bose L1 System with Bass DJ Equipment
djay Pro Software DJ Equipment
At the heart djay Pro is an innovative DJ Software with a modern user interface that provides flexible layers of functionality alongside a powerful music library into a single window interface. It combines djay's Apple Design Award winning turntable view that renders true record grooves on the virtual vinyl with more advanced modes including horizontal and vertical colored waveforms, live sampler and drum pads, FX racks, as well as a powerful four deck view that allows DJs to play, mix and synchronize up to four tracks simultaneously.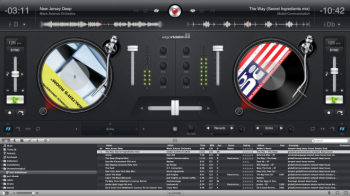 The E-108 is a popular and powerful effect that has revolutionized the lighting industry for years. It is a powerful effect for both clubs and mobile DJs. This unit features 2 x 120v 300w Lamps (EL-64514) that respond sound actively via its internal microphone. The effect creates a dramatic cluster of 40 multi-dichroic colored beams crisscrossing throughout the room. Due to its oval lens design, the coverage is enormous. You cannot go wrong with the E-108.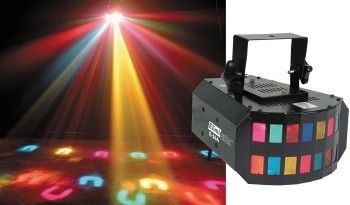 The Mini Moon™ is a Compact DJ™ series moonflower fixture that comes with both white and multicolored moonflower dishes, which the user can configure to provide either white or multi-colored output. Four colored gels are included for further customization. Output is provided by a 50-watt BRL lamp.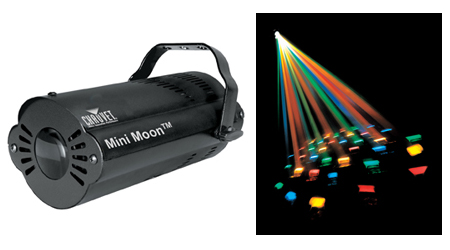 The Mini Line Dancer is a compact version of CHAUVET's popular Line Dancer fixture. The small case has 26 lenses, creating 78 beams that crisscross and rotate to sound. With 300 watts of light, this is one compact fixture that makes a big impact.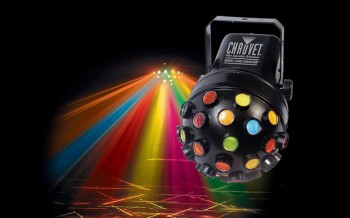 and of course, my trusty MacBook with iTunes!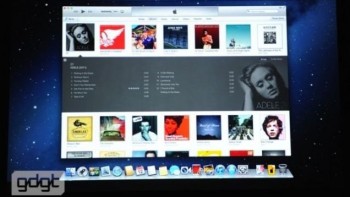 DJ Mystical Michael Rhode Island DJ & Boston DJ
Ask about my Rhode Island Wedding DJ & Rhode Island Party DJ Guarantee!