I came across this article about Wedding Brides yesterday and found it fascinating. I do not know if I agree with all that is written by I thought it would be interesting conversation. I have copied the bulk of the text below with some commments. i have also added links to content that is referred to by the original author.
7 BS Facts About Brides Everyone Thinks Are True
"I've been in the wedding business a while…over 12 years, in fact…and in the process I've crossed paths with more than a few brides.  There are a few misconceptions about them that I simply must expose.  *deep breath*  
WARNING:  Prepare yourself for a healthy dose of sarcasm.  All those lacking a sense of humor, turn back now.
1.  Brides don't know anything about planning a wedding.
Of course, they do!  They know what their Knottie friends have told them.  They know what the media says about wedding rip offs.  They know exactly what to expect from watching wedding reality TV.
Shame on you for thinking they don't know anything!  For shame.
2.  Every bride wants to be a princess in a fairytale on her wedding day.
Speaking as a tomboy who absolutely refused to wear a dress until the age of 10, and who only grew her hair long because she got tired of the question, "Are you a boy or a girl?" I can assure you that all brides do NOT want to be a princess.
In fact, I bet if we took a survey at least 75% of brides get nauseous at the thought of a Cinderella ball gown and a tiara.  You might remember that the next time you want to sprinkle fairy dust all over her day.
3.  The bride has been imagining her wedding since she was a little girl.
Maybe I'm handing in all my chick cards here, but that was definitely NOT the case for me.  Sure, I played house and restaurant and doctor (woah! don't go there) like other little girls, but playing at my dream wedding was never part of the picture.
When little girls grow up and get engaged, they are just as likely to be shell shocked at the mere thought of having to plan a wedding as they are to be sticker shocked by the price tag attached to their fantasy.
4.  All brides are female.
This is definitely not true.  The groom can also be, "the bride," and this isn't exclusive to same sex weddings, either.
You know who I'm talking about.  He emails you 15 times a day about the most minute details of the wedding, shows up with his own wedding planning binder, and on the wedding day, he wears makeup.
Be sensitive to the fact that the bride you're working with might not be who you think.
5.  Brides are obsessed with all the little details and hundreds of choices involved in planning the wedding.
While it may be true that many brides adore the browsing, shopping and dreaming that comes with planning a wedding, they are just as overwhelmed and stalled by CHOICE as the rest of us humans.  When it's too difficult to decide, they opt not to decide.
How many brides have exclaimed to me six months before the wedding, "Why can't I just show up?"
Brides love the idea of choice, but give them too many pretty things to choose between, and they will choose nothing.
6.  Brides want their wedding to be unique and different.
Ask a bride what her dream wedding will be like and 9 times out of 10 she'll say, "Simple, elegant and unique.  Something that's really US."
And yet…well, you've been to a wedding or two.  They wear a white dress (strapless, no doubt!), walk down an aisle, share a first dance to a (corny, predictable) love song and dab cute dollops of icing on the groom's nose.  When they want to do something "different" they imitate last year's trend-setting weddings on Style Me Pretty.
Yep, they're original, all right.
Every bride wants to FEEL unique and special on her wedding day, but her choices are more likely to follow the herd.
7.  All brides care about is price.
The first thing she asks, whether in an email or on the phone, "How much do you cost?"
Ah, ha!  With so many more important factors to consider, that's what she asks.  Therefore all she must care about is price.
Not so, weedhopper.  Not so.
In surveys conducted by the Wedding Report, when asked if price was the deciding factor when hiring a wedding vendor, 80% of brides said NO.
Shock and dismay!  If price isn't the most important, what is?
She wants to make sure she's getting quality first.  Then price becomes a factor."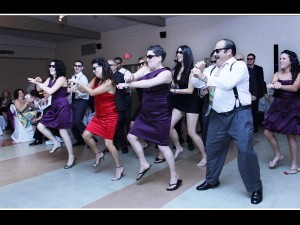 Interesting stuff yes?
Numbers six and seven are the two that stand-out to me to offer perspective.
6.  Brides want their wedding to be unique and different.
I think most Brides do want their wedding to be unique and different and are realistic enough to recognize that maybe just a few select items may be unique. Brides today are very savvy, at least min sour. You know more information about Weddings than brides have ever due to your time on the internet and forums. Of course,not all the information you get is true but it is still part of the knowledge base you accumulate to make your decisions on when, who, what and where. My experience is that Brides that do not know a lot about Weddings, ask professionals like myself to become more informed.  I do my best to offer them honest and real advise and they appreciate the insights and experience I can share with them.
I am enough of a realist to know that what I do as a Rhode Island Wedding DJ is very similar to what many of the best Wedding DJs int eh area do as well. What I can offer that is unique is a guarantee and my experienced, fu and passionate personality. I also created The StoryBook for those who want to make their Wedding actually unique and personal.
However, I totally agree that most of my Brides want a simple and elegant Wedding that has their style and personality all over it. It should be that way, it's your Wedding! I think too many Wedding vendors try to force themselves into the center of your Wedding as if they are the main attraction of the day. It infuriates me!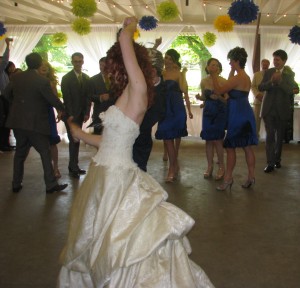 7.  All brides care about is price.
This is only half true and half BS. I have worked with enough of you to know that you want a fair price, excellent quality and to make sure your voice is of the highest importance. In short, you want value. I have not yet met a Bride that did not want me and all the other Wedding vendors to get paid what we are worth, as long as they can afford it. I think there is a mjor difference between being cheap and being smart. I am no different than of you; I don't not want overpay for anything, but genuinely want to make sure those who are talented, work hard and offer excellent service get what they deserve.
I find excellent service, professionalism and creativity seem to be what most Brides want, then price becomes the factor. I think you ask about price first because you don't know where else to begin our conversation. And let's be honest, who does not care abut price besides the Jimmy Fallon TV commercials! Please let me know if I a wrong on this one.
Which of the myths about Brides do you think is most accurate and most erroneous?